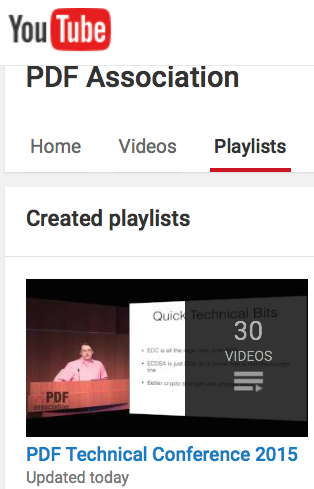 Over thirty videos from October's PDF Technical Conference 2015 have been posted on the PDF Association's YouTube channel.
The sessions include both Keynote sessions featuring Jon Callas, CTO of Silent Circle, and Phil Ydens, VP of Engineering for Adobe Systems.
Although all sessions are intended for developers, the content ranges from technical introductions to PDF, PDF/A and PDF/UA, to deep-dives into specific subjects within PDF.
A wide variety of subjects are covered, including fonts, content re-use, semantic content recognition, PDF 2.0 and much more.
See below for links to descriptions and video recordings of each session.
PDF Day Australia Program

09:00
Welcome!
Matt Kuznicki and Peter Wyatt
09:15
2 minutes with a PDF standard
09:30
A few words from our sponsors
09:45
Coffee break
The document of record
The accessible document
10:00
An introduction to PDF/A
Leonard Rosenthol, Adobe Systems
PDF and HTML: can't we all get along?
Adam Spencer, Accessibil-IT
10:45
The state of PDF support
Matt Kuznicki, Datalogics
An introduction to PDF/UA
Olaf Drümmer, callas software
11:30
veraPDF - industry supported open source PDF/A validation
Boris Doubrov, Dual Lab
Author vs. software in creating accessible PDF documents
Matthew Hardy, Adobe Systems
12:15
Lunch
13:00
Title here
Dean Sappey, DocsCorp
Title here
Ferass ElRayes, NetCentric Technologies
13:45
Title Here
Rowan Hanna, Foxit
Title here
??, ??
14:30
Coffee break
14:45
What's coming in PDF 2.0
Peter Wyatt, CiSRA
Title here
Raf Hens, iText
15:30
3D PDF and PDF/E-2
Phil Sprier, 3D PDF Consortium
WCAG 2.0 and PDF
???, ???
16:15
Preparing and exchanging printing data using PDF/X
Olaf Drümmer, callas software
tbd
17:00
End of the event
17:20
Drinks at a local bar
PDF Day Australia - Program

09:00
Welcome!
Matt Kuznicki and Peter Wyatt
09:15
2 minutes with a PDF standard
09:30
A few words from our sponsors
09:45
Coffee break
The document of record
The accessible document
10:00
An introduction to PDF/A
Leonard Rosenthol, Adobe Systems
PDF and HTML: can't we all get along?
Adam Spencer, Accessibil-IT
10:45
The state of PDF support
Matt Kuznicki, Datalogics
An introduction to PDF/UA
Olaf Drümmer, axaio software
11:30
veraPDF - industry supported open source PDF/A validation
Boris Doubrov, Dual Lab
Author vs. software in creating accessible PDF documents
Matthew Hardy, Adobe Systems
12:15
Lunch
13:00
How PDF is revolutionizing rich records retention
Leonard Rosenthol / Adobe Systems & Olaf Drümmer / callas software
Order and Semantics
Ferass ElRayes, NetCentric Technologies
13:45
What's coming in PDF 2.0
Peter Wyatt, CiSRA
PDF and AT today and tomorrow
James Teh, NV access
14:30
Coffee break
14:45
Engineering documents and 3D PDF
Leonard Rosenthol, Adobe Systems
Accessibility in practice
Raf Hens, iText
15:30
Preparing and exchanging printing data using PDF/X
Olaf Drümmer / callas software & Leonard Rosenthol / Adobe Systems
Accessibility features unique to PDF
Matthew Hardy, Adobe Systems
16:15
Capture and scan to archival-quality PDF
Rowan Hanna / Foxit
PDF accessibility roundtable
17:00
End of the event
17:20
Drinks at a local bar