Announcing no-cost access to the latest PDF standard:
ISO 32000-2 (PDF 2.0)
Download the ISO 32000-2 bundle NOW!
UPDATED JUNE 16, 2023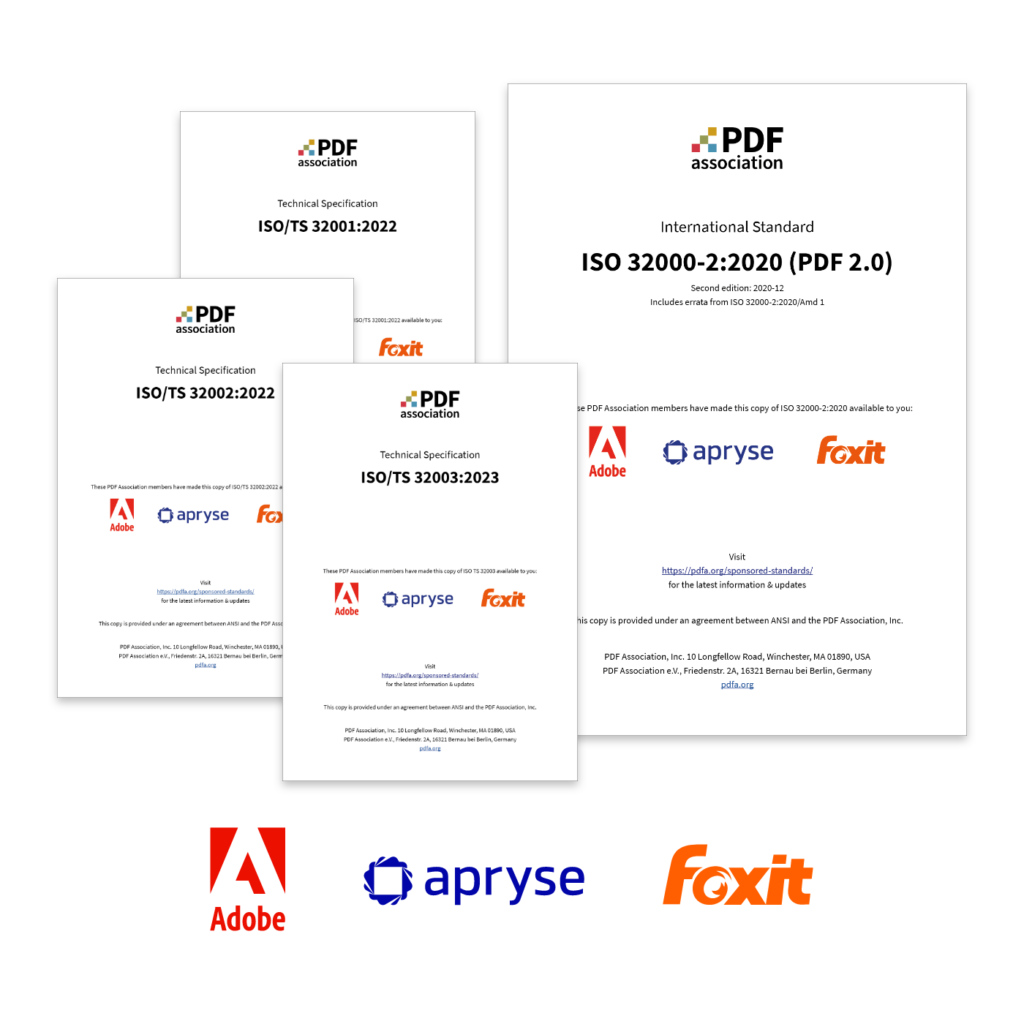 Thanks to a unique collaboration between the PDF Association and leading PDF companies Adobe, Apryse and Foxit, the latest ISO standard for PDF technology — ISO 32000-2, the PDF 2.0 specification — is now publicly available at no cost.
All PDF users can now leverage the most modern, vendor-neutral and up-to-date specification of the PDF format, including the latest, state-of-the-art cryptography in PDF 2.0 as defined in ISO/TS 32001, 32002 and 32003.
Since 1993, PDF developers were free to openly read and implement the then-current specifications: PDF 1.0 - 1.7. This freedom was critical to PDF's success. In 2017, ISO 32000-2 became the first ISO standard defining PDF entirely developed in a vendor-neutral forum under ISO processes.
Thirty years after its introduction, PDF is ubiquitous.
In addition to adding important new features, ISO 32000-2 — the result of research, testing and debate by experts from around the world — resolves thousands of ambiguities from earlier specifications.
ISO 32000-2 was also, however, the first and only core PDF specification published exclusively — and only for purchase — by ISO, inhibiting its use and adoption over the last five years.
Although governments, institutional users and vendors derive benefits from PDF's status as an ISO standard, adoption of modern PDF technology has lagged because:
a significant portion of the ecosystem can't or won't pay for expensive ISO publications. Without a no-cost specification it's very hard to reach all these developers.

corrections and clarifications in PDF 2.0 remain largely unimplemented so newly-created PDFs continue to include errors and implementations retain mistakes that the industry addressed years ago, but are only clarified in the latest specification.

developers and end-users of PDF don't know what they are missing, since a key on-ramp to adoption — the improved documentation, features, clarifications and resolution of ambiguities — is only available to licensees of ISO 32000-2.
With the help of ISO 32000-2 sponsors Adobe, Apryse and Foxit, the PDF Association, the home of the worldwide PDF technical community, has now removed this roadblock.
Adobe, Apryse and Foxit sponsor public availability of ISO 32000-2
The PDF Association was already making available ISO standards for PDF technology under its existing license agreement with ANSI. Earlier this year, the PDF Association signed an additional agreement with ANSI to sponsor the availability of ISO 32000-2 at no cost to users.
"Today, the PDF Association is delighted to announce no-cost access to ISO 32000-2, the latest PDF standards, including new features, published errata and the latest crypto specifications" said Duff Johnson, PDF Association CEO. "We are grateful to PDF Association partner members Adobe, Apryse and Foxit, who have stepped up to make this possible," Johnson said.
"Going forward the PDF Association and the sponsors of ISO 32000-2 are committed to ensuring that developers worldwide, from individual developers to giant corporations, have the latest, highest-quality information they need to enable modern interoperable PDF implementations," Johnson said.
About the PDF Association
We are an international collaboration of member organizations and individuals engaged in a vendor-neutral platform for developing open specifications and standards for PDF technology. Together, we are driving the world's digital document format into the 21st century and beyond. Find us at https://pdfa.org.
Press contact
Duff Johnson
PDF Association
Email: duff.johnson@pdfa.org
Tel: +1 617 283 4226
###