2018 is a soccer World Cup year – and Foxit is bringing its own high-power squad to the PDF Days Europe. For this home game in Berlin, CEO and coach Carsten Heiermann will be fielding eleven highly motivated players from kick-off on May 14 until the final whistle on May 16. In the arena of the SI Steglitz International Hotel, the team will show what it has to offer in terms of fast, affordable and secure PDF solutions.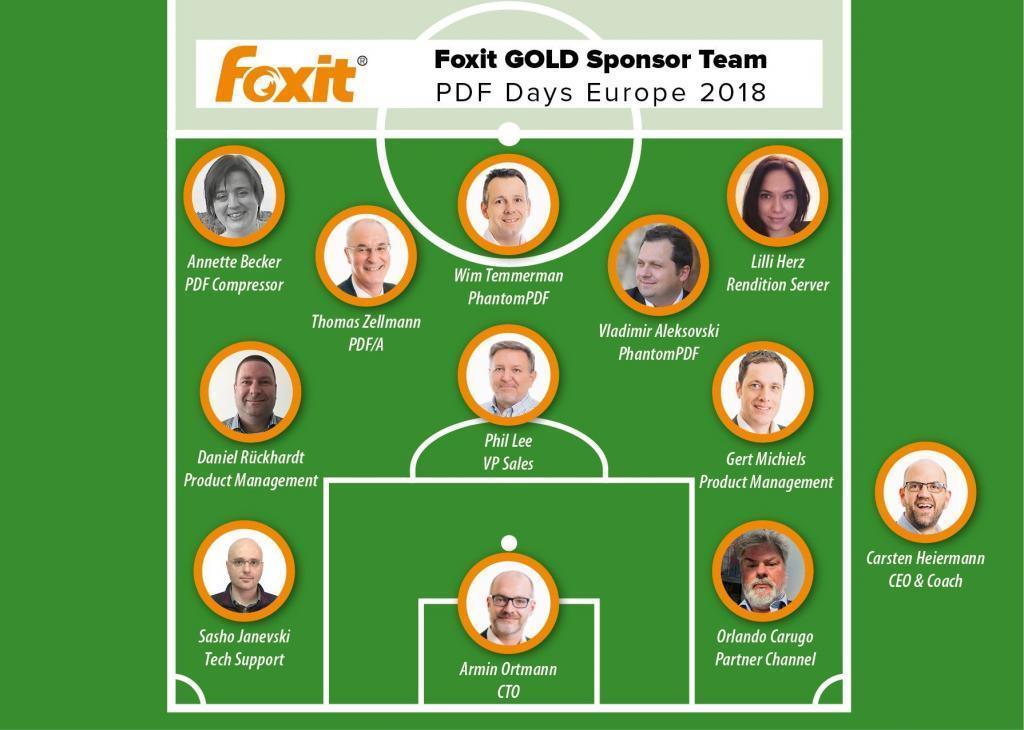 The strikers for this match will be product experts Annette Becker for the PDF Compressor, a production-oriented solution for document conversion and compression; Thomas Zellmann for the ISO PDF/A standard; Wim Temmerman and Vladimir Aleksovski for the PDF editor PhantomPDF; and Lilli Herz, for the Rendition Server platform. Out in the midfield providing tech support will be Sasho Janevski to provide some clean passes, while Daniel Rückhardt and Gert Michiels from Product Management will keep the ball on the move. As Senior VP for sales, Phil Lee will bring his full tactical expertise to bear, and we can expect some exciting shots on goal from Orlando Carugo from the Partner Channel. Speaking of goals – keeper and CTO Armin Ortmann will be keeping the penalty box clear and, together with his development team, will ensure top product quality.
For more from Foxit on the PDF Days Europe, visit https://pdfa.org/member-news/foxit-is-gold-sponsor-of-pdf-days-europe-2018/ .

Foxit is a leading provider of innovative PDF products and services, helping knowledge workers to increase their productivity and do more with documents. Foxit addresses the needs of three distinct market segments. For End-User Productivity, Foxit delivers easy to use desktop software, mobile apps, and cloud services to make knowledge…
Read more