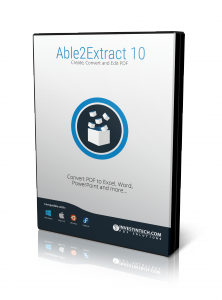 Investintech has released Able2Extract 10 PDF Converter that is now powerful enough to meet the data extraction needs of any business professional, yet user-friendly enough for individuals at any level for editing and converting PDF files to other formats, including Microsoft Office.
Aimed at streamlining the data extraction process, Able2Extract 10 contains new PDF manipulation features you can use for transferring data and analyzing information accurately. As such, Able2Extract 10 is now ideal for integration into business analysis solutions.
Discover how Able2Extract 10 can help your business.
Advanced PDF Conversion Features
Able2Extract 10's newest conversion features help facilitate the data extraction process essential to making corporate business decisions.
Create Comprehensive Reports By Converting Any Format to PDF—Extract data from a variety of external sources into Excel spreadsheets. Able2Extract 10 allows you to convert any printable format to Excel, letting you incorporate and analyze data from different resources for more complete business reports.
Interact With Enterprise-Level Databases By Converting PDF To CSV—Work directly with raw database formats for faster data analysis. Able2Extract 10 can be integrated directly into your data processing workflow. Export PDF to CSV, Tab and other delimited formats for enterprise level applications and databases.
Brand New PDF Editing Features
Get control over your PDF content on a granular level. Able2Extract 10 allows you to tailor PDF files as needed.
Instantly Modify PDF Content With On-page Text Editing – Edit PDF text seamlessly with Able2Extract 10. You can add or delete text directly on the PDF page. The editing side panel and WYSIWYG viewing interface allows you to see and specify the font, colour and size of your text.
Resize PDF Pages According To Industry Standards— Communicate with and publish your PDFs across all industries. Able2Extract will let you instantly resize pages to ISO, ANSI and Arch specifications for print publications, allowing you to meet document standards with a few clicks.
Product Enhancements
In addition to the above features, Able2Extract has also received overall enhancements to provide you with a seamless PDF experience.
Generate Better Conversion Results With Our Updated OCR Engine—Get more precision with poorly scanned PDF documents. The professional version of Able2Extract 10 contains a tweaked OCR (Optical Character Recognition) engine that corrects and repairs broken text for smooth, legible conversion results you can edit.
Able2Extract 10 is compatible with Windows 10, 8, 7, Vista, and XP. Mac users can get Able2Extract 10 for the latest OS X Mountain Lion. Able2Extract 10 is also available on the popular Ubuntu and Redhat distributions.
Able2Extract 10 is available for download as a 7-day free trial at the following page: http://www.investintech.com/prod_downloadsa2e.htm

We're Investintech.com Inc., a Canadian company incorporated in 2000, and we're the developer and publisher of our own proprietary PDF technology. It's used in desktop, server, developer, web, and mobile products worldwide. Millions in over 150 countries have used our flagship PDF software – Able2Extract Professional. As a company, we …
Read more