The PDF format is one of the most widely used formats in the world. The numerous functions it has to offer indeed make the format complex. Many companies use it to exchange information between business partners or in-house. It, therefore, makes sense to use quality specifications to ensure interoperability within and outside a company. Standard formats defined for PDF can be used to define such quality requirements and simplify their compliance. They also relieve the burden of technical details and help clarify responsibilities within the process chain. ISO defined these standards to guarantee reliable PDF processing in view of the many PDF creation programs and the central importance of PDF. Let's have a look.
The current ISO standard for PDF is PDF 2.0, which was released in 2017. It was recently published in a new version, ISO 32000-2:2020, and includes nearly 1,000 pages. ISO 32000-2:2020 includes many detail improvements and some significant clarifications compared to the previous specification 1.7.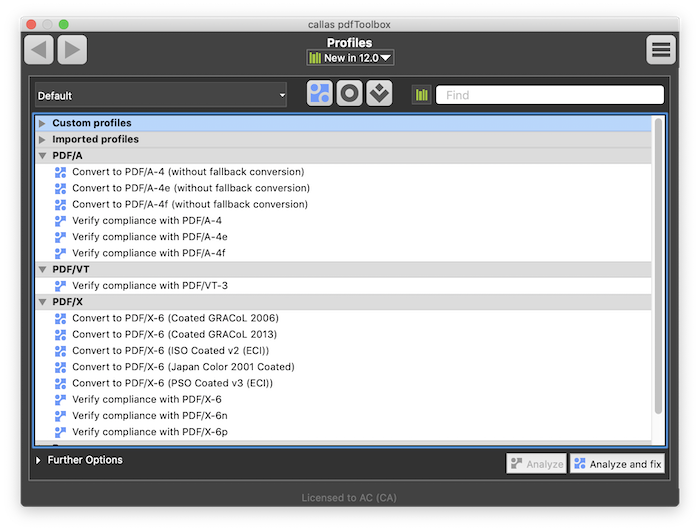 PDF/X - standard for the printing industry
In the printing and prepress sector, PDF files are the "raw material" from which printing is done. There are numerous requirements that go beyond error-free display on the monitor. For this reason, the industry formulated corresponding requirements shortly after PDF's existence and developed PDF/X ("X" stands for "eXchange") under the umbrella of ISO.
The technical development was taken into account by standard parts and PDF/X-4, published in 2008, is the most widely used variant today. PDF/X-6, which is based on PDF 2.0, was then published at the end of 2020. PDF/X-6 enables automatic production control for page ranges in the same PDF. In addition, PDF/X-6 contains new parameters for color conversion with/without black point compensation and allows the embedding of spectral measurement data for spot colors (CxF). PDF/X-6 thus addresses the trend towards automating as many processes as possible in prepress, press and postpress.
PDF/A for long-term archiving
The PDF/A format plays a particularly important role in document management. The standard was developed at the behest of the manufacturing industry, which required a recognized, robust PDF for archiving its production documents, as well as archiving institutions. PDF/A was first published in late 2005 as ISO 19005-1. Businesses and public institutions benefit from PDF/A because digital documents can be archived permanently using this standard. While the format was initially used primarily as a replacement for scanned paper or TIFFs in archives, it is now also used predominantly for digitally created documents.
Since PDF/A is an archival format, it is important to note that all versions of the standard, from PDF/A-1 onward, will be valid forever. Nevertheless, for new documents it makes sense to use the most recent part of the standard, since it is based on the current PDF version (PDF 2.0). Thus, it allows more PDF functions, which reduces the conversion effort. This is because, unlike earlier parts, PDF/A-4 natively supports PDF 2.0 functions such as modern signature procedures (PAdES). PDF/A-4 is divided into the main standard and two optional conformance levels that address specific requirements.
The PDF/A-4f conformance level allows the embedding of arbitrary files, so that digital files, for example, can be conveniently represented in a PDF file. One example is ZUGFeRD invoices. In these, the machine-processable XML record is integrated with the invoice information in a human-readable PDF/A-3 file.
The PDF/A-4e conformance level is the successor to PDF/E (Engineering) and specifies how PDF files with 3D drawings can be archived.
PDF/VT & PDF VCR for Variable Data Printing and Transactional Printing
PDF/VT (ISO 16612) is the exchange format for variable data printing and transactional printing and was first published in 2010. It is based on PDF/X, forms an alternative to the formats PCL, PPML, AFP, etc. and addresses trends in printing with individualization and digital printing. The current version, PDF/VT-3, is based on PDF/X-6 and PDF 2.0:2020.
PDF/UA for accessible documents
In the ISO standard PDF/UA, "UA" stands for universal accessibility. The requirements for a PDF/UA-compliant file define how text, images, forms and the like must be designed so that people with disabilities - and machines - can use them. In this way, PDF/UA helps to meet legal requirements for unrestricted access to electronic information offerings - for example in public institutions, insurance companies and banks.
The requirements for texts from PDF/A-2u form one of the technical foundations of PDF/UA. In addition, the standard contains requirements for the normally non-displayed tagging structure of a document, which defines reading order and structure in headings, paragraphs, columns, tables and alternative texts for images etc. Subsequent generation of the structure in an automated way is not fully possible and manual tagging of a PDF file is extremely time-consuming, so the generation of PDF/UA usually starts at the original document.
Combining PDF standards?
A frequently asked question is whether the standards can be combined. In order to keep the creation of standards-compliant PDFs as simple as possible, the aforementioned PDF standards will probably continue to exist separately. Fortunately, the current generation of PDF standards is written in such a way that creating PDF files that are intended to be compliant to multiple subsets is possible without much effort. This is because the latest versions use exactly the same wording wherever possible, so conversion and validation can be done in the same way wherever that makes sense. Even if it is not always possible in PDF creation programs, such as Microsoft Word, Adobe InDesign and others, to create PDFs that conform to multiple standards at the same time, there are products that enable subsequent conversion - even in automated workflows.