LightPDF SDK for PDF Editing
Produced by Wangxu Technology (HK) Co., Limited
LightPDF provides cross-platform SDK solutions for PDF editing, it is designed to make PDF easy. It can be integrated to your project easily, enrich your product functions and help your product users quickly solve PDF issues.
60+ Functions Supported: view, edit, search, replace, watermark, form, signature, compress, annotate, convert, and more
6 Platforms Supported: Windows, macOS, Linux, Android, iOS, Web
Tech Support: 7*10 hours online expert support
To learn more about our SDK service, you can visit our website.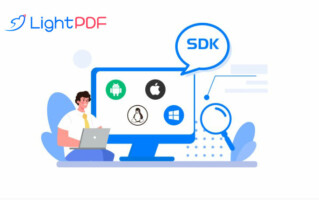 Product Type
---
API / SDK
Windows
MacOS
Linux
Android
iOS
Developer tool
PDF viewer/printer
Web service
Features
---
Annotate
Compress
Create
Modify page content
Redact
Print
Sign
Stamp
Validate
View
Developer tools
Convert from PDF
Convert to PDF
Merge
Product sectors
---
Engineering & 3D
Forms
Mobile
Printing
Search
Security
Validation
Viewer
AEC
Information technology
Manufacturing
Publishing
Software development
WordPress Cookie Notice by Real Cookie Banner