Tenant records are among the most important sources of information for housing societies, as they contain a complete set of relevant documents. Smooth, seamless business processes require these records to be carefully maintained, and for their content to be available to authorized employees at all times. Paper-based storage leads inevitably to delays: even just searching for information related to a business process is a time-consuming task. This is why WBM, Wohnungsbaugesellschaft Berlin-Mitte GmbH, decided to implement a digital tenant record system. The basic requirement was to archive all incoming and outgoing paper-based and digital documents in a central, digital system.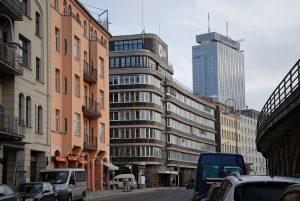 WBM, based in Alexanderplatz in Berlin, employs approximately 365 members of staff managing around 30,000 apartments and 283,000 square meters of industrial real estate. To support this, the municipal corporation maintains seven maintenance staff staging points across the city, connected to the head office by a radio relay system. These staging points are equipped to quickly transfer even very high volumes of data from one location to another.
In principle, WBM receives all mail at its central mailroom. In practice, however, maintenance staff receive numerous documents via the head office which then need to be transferred by messengers to the relevant departments or locations. Before the digital tenant record system was implemented, archiving took a number of different forms. The individual locations maintained their own archives. Some documents were stored on microfilms. The devices used to visualize these were showing their age and needed to be replaced within the medium term. The archiving module for the ERP system Wodis Sigma archived outgoing mail, including mass mailings in particular, such as bills for operating costs or interest rate statements. These were stored in PDF format alongside the associated contracts. Meanwhile, WBM also continued to receive more and more documents in electronic format. The corporation used the groupware solution IBM Notes, which stores emails in EML format. At the time, there was no document management or workflow system in use.
In adopting a digital tenant record system, WBM was pursuing a number of goals. These included eliminating the need to create copies of outgoing mail and physically store them in tenants' folders. In order to save resources as part of WBM's corporate social responsibility policy, it was also important to reduce the number of copies used for reference files and shadow archives. WBM also aimed to reduce the amount of parallel processing, which was an issue in areas such as invoice processing. "Now as ever, we have a lot of companies that send us invoices in paper format. We also receive digital invoices, such as those from various suppliers, which are stored in the archive. We used to then also print them out for processing and checking," said Kevin Bochow of the organization and application support department at WBM. Our goal was to have all invoices available in a unified format – in other words, to make sure the paper-based documents were also scanned, to enable a standardized process." Finally, documents needed to be accessible more quickly than before, and from any location.
In total, WBM needed to process approximately 400,000 documents in 2015. To do so, administrators initially followed paper-based processes, only scanning and archiving documents once the process was complete. This approach is known as 'late scanning.'
For outgoing mail, this approach mostly involved mass mailings in the form of automated serial letters such as bills for operating costs, rent adjustment notifications and interest rate statements – all of which, of course, could not be edited after publication. There were also individual letters to tenants, which were again produced by the ERP system and then manually edited or completed, as well as letters or invoices sent to business partners. Incoming mail could be divided into two categories: physical documents, such as business mail, statements and SEPA mandates, and born-digital documents, such as emails containing photographs, mobile-submitted claims notifications and ZUGFeRD invoices.
Administrators would first scan the physical documents on a decentralized basis using multi-function devices at a resolution of 400 dpi in black/white, in order to keep file sizes under control. These (sometimes multi-page) documents would then be stored in a central location. The goal of the project was to scan in color without negatively impacting processing, transfer or loading times. It was therefore necessary to compress the scanned documents.
WBM therefore switched to central digitization using high-performance scanners, eliminating the need to drag paper copies through the workflow along with the digital versions. This was made possible by using the workflow components of Wodis Sigma R8. Additionally, by adopting a central scanning office, WBM was also able to digitize its internal records as required. In order to ensure universal display standards and long-term reproducibility of documents, WBM decided to use the PDF/A format, which the Wodis ERP system fully supports. Other advantages from WBM's perspective were full text searching and the ability to use mobile applications. "We should not exclude the possibility of providing documents to our tenants though a portal," said Kevin Bochow, "and such a system should also be available on mobile devices."
Finally, SRZ reproduced the microfilms and handed them over to WBM in PDF format. Using the CrossCap software solution from SRZ, the scanned documents were further processed, and with the help of barcodes, they were batch-processed and separated into individual digitized documents.
Naturally, WBM also wanted to archive its emails in digital format, especially given the constantly rising number of them. To achieve this, the emails were manually exported from the IBM Notes mailbox to EML format so that they could be imported into Wodis Sigma. With the help of a barcode generated at export containing the relevant document information, the emails were then indexed. "Storing the emails in native EML format did, however, have the disadvantage that they could not be visualized within the ERP system." said Bochow.
The PDF compressor by Foxit Europe GmbH, implemented at the recommendation of SRZ, brought WBM further advantages. This software converts scanned documents into highly compressed, fully text searchable PDF and PDF/A files. This allowed WBM to scan documents in color while keeping file sizes similar to those of black/white files. The PDF Compressor also includes a Born Digital module which converts digital documents to PDF/A. This meant that emails from IBM Lotus could be stored in PDF/A format and displayed within the ERP system. WBM chose to implement the third version of the PDF/A standard, in which files of all types can be embedded. WBM uses this option to embed its emails and attachments inside the PDF/A-3 file in native format.
"Today, our employees have access to all documents related to a transaction." said Kevin Bochow in conclusion. "It's all done through an ERP system search."

Foxit is a leading provider of innovative PDF products and services, helping knowledge workers to increase their productivity and do more with documents. Foxit addresses the needs of three distinct market segments. For End-User Productivity, Foxit delivers easy to use desktop software, mobile apps, and cloud services to make knowledge…
Read more