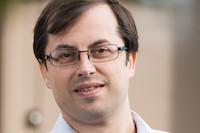 Who: Bruno Lowagie
Company: iText
Position: Chief Strategy Officer
Job description: Chief Thinker, Developer and Doer
PDF Association: What will be the personal highlight of this summer for you?
Bruno Lowagie: The highlight of this summer will be the release of iText 7. The iText 5 series has been around for almost 7 years now, from iText 5.0.0 in 2009 to iText 5.5.9 in 2016. We started the iText 7 project in 2014 by compiling a list of possible improvements to iText 5. Based on that list, we decided that it was time to rewrite the library from scratch. Rewriting a library from scratch is a huge effort, but I am very proud of the result. The first iText 7 release is in May, but it will be followed by the release of several new add-ons in the course of the months that follow. I'm very curious to hear the feedback of the early adopters in the summer.
PDF Association: At the PDF Days Europe, you will be hosting a presentation titled "Disrupting the world of document creation and distribution" – what's that about?
Bruno Lowagie: In 2006, I wrote a book for Manning Publications, with a second version in 2010. This book was inspired by the many questions that were posted and answered on our online mailing-list. Editing was mostly done in Word. Proofreading was done with PDF files. The examples were copy/pasted into a web site and the book was sold as a hardcopy as well as a PDF e-book. In the 4 years between the first and the second book, the e-book version increased in popularity vis à vis its paper counterpart. So you can see the traditional paper model was already under pressure when I was an author for Manning publications.
Secondly, the mailing-list has been abandoned in favor of StackOverflow. I no longer write books in Word, but I can now copy/paste markdown used on StackOverflow directly into our Drupal web site. Examples are stored in Gitlab where they serve as the master data for the examples published on the web site. I can export a book written on the site to LeanPub, and publish the book as a PDF, .epub and .mobi. PDF is by far the most popular format. On average 97% of the readers download the PDF, 20% download the epub, 12% download the mobi format - the numbers don't add up to 100% as purchases include all formats.
PDF offers a number of opportunities to implement new business models.
At iText, we offer new books for sale on LeanPub, but we offer a 100% reduction for people who share their contact information with us.
Our partner Bookboon offers books for free, but they use iText to fill blank space in the book with targeted ads.
Our customer Zerocopy offers to print books for free, but they add targeted ads at the bottom of every page.
PDF Association: Who is your presentation aimed at?
Bruno Lowagie: With my talk, I want to address an audience of developers and explain the importance of writing documentation. At the same time, I want to reach out to their employers and explain how documentation can be a useful marketing instrument.
PDF Association: What will the people who attend your presentation be able to take away from it?
Bruno Lowagie: I hope that I can convey the message that PDF is the best fit to meet the needs of almost every stakeholder mentioned in my talk:
the developer who writes documentation,
the developer who reads documentation,
the marketeer who wants to promote a product,
the business owners in search of new business models.
Traditional publishers may already know how and why their business is being disrupted, but could benefit from learning how they can use PDF as a solution to create more business.
PDF Association: Which other presentation at the PDF Days Europe 2016 are you personally excited for, and why?
Bruno Lowagie: I'm looking forward to the talk about digital signatures by Michaël Demey. This used to be a talk that I presented, but I asked Michaël to present it in my place because I felt I had given that talk too many times already at different events. Michaël has a different style and I'm very curious to find out what he's going to do with the available material.
I'm also looking forward to the talk by Benoît Lagae and Alexey Subach about typography. Improved font functionality is one of the major new advantages of iText 7. Benoît and Alexey will share some lessons learned about different font types. Be prepared to see some really exotic examples in Devanagari, Tamil and Arabic, and learn how adding support for these foreign scripts also had an impact on text rendering capabilities for Western languages.
PDF Association: Thank you! We look forward to seeing you at PDF Days Europe 2016!