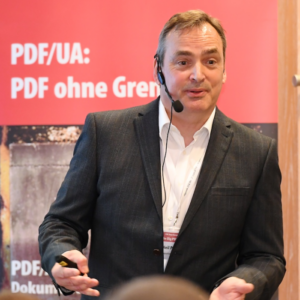 PDF Association: At the PDF Days Online 2021, you will be hosting a presentation titled "The Low Code Revolution and PDF" – what's that about?
Neil Pitman: Low code/No Code (LCNC) platforms are disrupting, and democratizing, software development. By decreasing – or removing entirely – the programming knowledge needed to build applications, these platforms are changing the landscape of development. Analysts Gartner predicts low-code app development will account for more than 65% of all app development functions by 2024.
Speedier time to delivery on a no- or low-code platform changes the expectation that development is an inherently time and labour-intensive ordeal, and many platforms are expanding the definition of who can contribute to application delivery - enter the citizen developer!
PDF will of course be a very important part of many applications built using these platforms – the session looks at how PDF capabilities can be brought to LCNC.
PDF Association: Who is your presentation aimed at?
Neil Pitman: The session is aimed at both developers and end users – anyone interested in LCNC and PDF.
PDF Association: What will the people who attend your presentation be able to take away from it?
Neil Pitman: Attendees will take away an understanding of current LCNC platforms and what is required behind the scenes to add PDF functionality to these platforms.
PDF Association: The PDF Days Online 2021 has become the leading PDF event. What makes the PDF Days so unique in your mind?
Neil Pitman: PDF Days is a unique opportunity for members of the PDF industry to come together to learn from each other and discuss the future in a way that isn't possible at any other event.
PDF Association: Thank you! We look forward to seeing you at the PDF Days Online 2021.
Check out the overall PDF Days agenda and register for Neil's session.