Berlin – March 16, 2015 – axaio software, developer of automation solutions for PDF creation, printing and content correction workflows for the publishing and printing markets, today launches an update of MadeToTag that includes new functionalities for table of content tagging and support of PDF archival.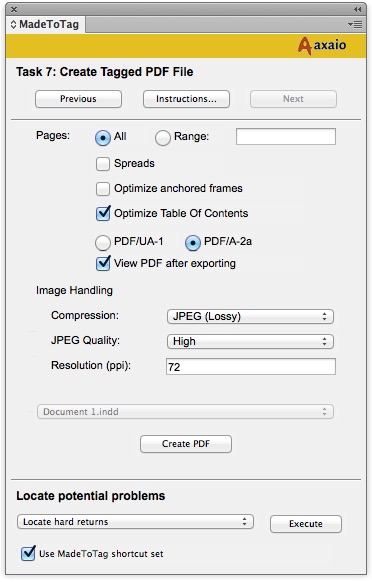 Today's update version 1.6.069 of MadeToTag includes two important new features that makes creating tagged PDFs even safer, more flexible, more efficient and less time-consuming.
Correctly tagged table of contents (TOC)
The new version 1.6.069 of MadeToTag correctly tags the table of contents of a document during PDF export. Tags no longer need to be revised in Adobe Acrobat. Adobe InDesign by itself defines the paragraph format for the table of contents of a document, but it inserts incorrect tags in the tagging tree. The new version of MadeToTag correctly exports the table of contents so that the manual revision step can be skipped. This leads to time saving as well as improved and more reliable navigation within the document in favor of reading software, for example.
Support for PDF archival
axaio MadeToTag was developed to support workflows where tagged and accessible PDF documents need to be created from Adobe InDesign. Much of the importance of tagging and structuring however also exists for workflows where long-term archival of PDF documents is important. The new MadeToTag update adds this scenario by allowing the user to choose between PDF/UA (accessible PDFs) and PDF/A-2a (PDF for longterm archiving with tagged content) during PDF export.
Survey
As axaio software would like to further optimize MadeToTag to the needs of the customer, they  would appreciate it, if you could answer the following question:
When creating tagged PDFs, does your workflow still imply manual tasks or steps that you would like to see supported or automated by MadeToTag?
Please send your answer to Karina Zander: k.zander@axaio.com.
Produce better tagged PDFs
axaio MadeToTag is an InDesign plugin that helps tagging InDesign files in a user-friendly, logically structured and intuitive way. A very handy list of shortcuts for quick and easy tagging, problem locators to avoid mistakes and previews of collected or not collected articles for a better overview increase the operator's productivity.
Instead of tedious dragging and dropping, you can easily structure your InDesign files via shortcuts. MadeToTag includes a problem locator that identifies and automatically fixes problems you usually encounter within InDesign; such as incorrect hyphens, misplaced hard returns or incorrectly formatted lists. It also locates images that don't have an alternative text, which is required for creating accessible PDFs. Missing alternative texts can be added within seconds.
Pricing and availability
axaio MadeToTag is immediately available and costs 149 Euro (excl. VAT). Discounts for multi- user licenses are available as of 10 licenses (1.249 Euro excl. VAT).
A free 30 days trial version of MadeToTag is available on the axaio website and can be used without any restrictions.
About axaio software
axaio streamlines PDF creation, printing and content correction workflows for Adobe InDesign, InCopy, Illustrator and QuarkXPress environments. Its flagship product, MadeToPrint, vastly enhances the reliability of PDF creation, print output processes as well as export to other file formats and seamlessly integrates into editorial environments based on vjoon K4, WoodWing Enterprise, Van Gennep PlanSystem4 or Quark Publishing System. Another topic axaio software is focusing on is the generation of accessible documents, a theme of growing importance. axaio solutions are being used by publishing houses, advertisement agencies, prepress service providers and packaging companies all over the world. axaio software actively supports the international PDF standards and is member of the PDF Association. More information on the axaio website: www.axaio.com.
Attachments:

axaio software optimizes and standardizes output workflows for Adobe InDesign/InDesign Server, InCopy, Illustrator and QuarkXPress environments. axaio MadeToPrint vastly enhances reliability in PDF creation and export through standardization and automation of print output and export processes. Publishing systems like WoodWing Studio, vjoon K4 or Quark Publishing Platform can be integrated …
Read more