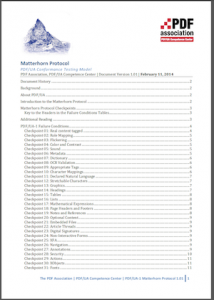 The PDF Association's PDF/UA Competence Center is pleased to announce the immediate availability of version 1.02 of the Matterhorn Protocol.
A publication of the PDF Association's PDF/UA Competence Center, the Matterhorn Protocol specifies all possible ways to fail PDF/UA. As such, it's a set of algorithms providing the practical rules for implementing software that creates, processes or presents accessible PDF.
A free download, the 1.02 release includes minor editorial corrections. In addition, one checkpoint is moved from 08-003 to 01-007.