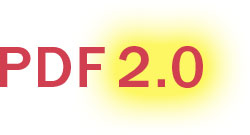 The ISO committee (TC 171 SC 2 WG 8) that manages PDF is in the process of completing its lengthy development cycle. The 4th Draft International Standard (DIS) of ISO 32000-2 (PDF 2.0), will be feature-complete. It will be made available to the ISO committee and members of the PDF Association in July, 2016.
The ISO Project Leaders, and the working group as a whole, are now beginning to consider what comes next. To this end, we are seeking proposals for future changes to PDF from members of the community.
These proposals should come in one of two forms:
Initial technical drafts of new or extended features and capabilities.
These should present a 'strawman' approach with ISO 32000-style wording ("shall", "should", "may") describing how the new or extended features/capabilities might be incorporated into PDF (such as via new dictionaries, new keys, etc). Such drafts should  include recommendations about how a processor (interactive and/or non-interactive) would utilize or expose these features.
Use-cases identifying unaddressed needs of industries/sectors, new technologies, etc.
Such use-cases must clearly describe the issue and provide some directions as to how the problem might be solved in PDF.
All proposals must be submitted the Project Leaders, Duff Johnson (duff@duff-johnson.com) and Peter Wyatt (peter.wyatt@cisra.canon.com.au) in writing no later than 30 September 2016.
These proposals will then be distributed to WG 8 members for consideration prior to the next face-to-face meeting in Sydney, Australia (November 28 to December 2 2016).
It is required that the submitter present their proposal (either in person or via web conference) during the Sydney meeting.
Submissions in the form of initial technical drafts are strongly preferred, and will be discussed first.