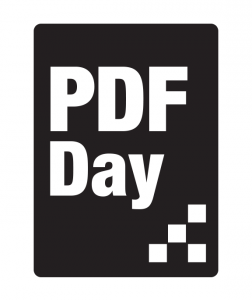 PDF Day is coming next week to Washington DC and New York City! What can IT and records managers and executives expect?
It's no secret that organizations everywhere use PDF all day, every day. From exchanging contracts to checking proofs, from transaction records to delivering reference information to users, PDF is the ubiquitous electronic media for content that used to live on paper.
And yet, PDF delivers far more than a replacement for paper. This ISO-standardized, universally-accepted format is far more powerful than most users suspect.
PDF Day is an educational, non-commercial event designed to educate IT decision-makers about how PDF can address business problems. Speakers are subject matter experts, not marketers. PDF Day attendees will learn:
How PDF/A reduces risks and improves efficiency when sharing or storing documents
How PDF attachments can reduce transaction costs by containing machine-readable information to automate invoicing and other exchange-of-data procedures
How digital signatures can provide a range of valuable capabilities, from tamper-protection to authentication, revocation and more
How the common platform of PDF technology allows users to collaborate on document reviews online and offline
How to manage privacy concerns in electronic documents
How to conform to regulatory requirements for accessible (Section 508 and ADA) electronic content
...and more
What's the return on your investment for attending PDF Day?
You'll see how intelligent use of PDF can reduce costs and refine workflows in everyday business processes
You'll think of new ways of communicating with end-users, vendors and the public
You'll be be better equipped to assess existing and plan new enterprise content deployments
You'll be able to leverage this powerful format throughout your organization
You'll be able to ask better questions of your ECM and other IT vendors
Review the programs for PDF Day in Washington and New York to learn more about specific sessions.
 Register for PDF Day today!
The first 20 attendees to use promotion code: I-NEED-A-PDF-DAY get 50% off the regular attendee rate!
In Washington DC on December 10:
In New York City on December 11: