PitStop 13 update 1 is now in general release. New features in this release were developed to provide users in a wide range of markets, including Sign & Display, Packaging & Label, Digital & Commercial Printing, with new tools to help them address the challenges of daily production.
New features in PitStop 13 update 1 include improved processing speed, support for adding grommets, preflight restrictions within a shape such as a cutter guide, and a new preflight profile for fixing PDFs created from Microsoft Office documents. Together, these new features support the PitStop position as the leading PDF preflight and auto-correction solution.
Speed Improvements up to 10-20% for PitStop Server
Version 13 update 1 of PitStop Server includes new enhancements that improve the speed at which files are processed, giving users a faster way to get jobs through their organization. Testing has shown that typical speed improvements are between 10-20%, with customers who use physical hard disks experiencing the biggest benefit.
Improvements on adding Grommets and Graphics for the Sign & Display Market
PitStop 13 update 1 includes a greatly enhanced Add Copied Graphic Action. This feature includes expanded functionality that helps users simplify the process of adding graphic objects and page furniture. One of the main uses for this feature is the placement of grommets for large format printing.
This functionality can also be used to distribute a defined number of objects across an area, and enable a step and repeat type of functionality.
Preflight for Packaging & Labels
When Enfocus released PitStop 13, it included a major change to the Restrictions functionality in the PitStop Preflight engine. Restrictions enable the user to limit the objects or parts of the PDF that are checked, resulting in a preflight check that is more accurate and precise.
The new Select Inside Contour feature of PitStop 13 update 1 builds on that concept, giving users – especially Packaging & Label printers – a way to select objects only within a defined shape, such as a Dieline or a Cutter Guide. The Preflight check will then only check objects that are within or overlapping that shape, ensuring that technical or other non-printing objects such as a legend are ignored. Restriction Actions improve the accuracy and precision of checking what can be very complex PDF files, and reduce the amount of unnecessary warnings or errors generated.
Improvements to Select Page Action
PitStop 13 update 1 also includes customer-requested improvements to the Select Page Action functionality.
Customers reported that the Select Pages Action had a limitation regarding the selection of pages from the end of a document.  For example, if a printer produces a saddle-stitched job, a typical file would have a page order where the pages are the front cover, inside front cover, inside back cover and back cover.
But the covers of these types of publications often need a different preflight check than the inside covers or the rest of the job. With previous versions of PitStop, it was very difficult to select the last but one page, for example. PitStop 13 update 1 resolves this limitation by giving the user the ability to select pages by counting from the back of the document.
In addition, the Select Pages Action in PitStop 13 update 1 can be used in conjunction with Restrictions to allow the user to select the cover, inside cover and text independently and apply different preflight checks to those pages as applicable.
A new function called "Nth Page" has also been added to the Select Page Action. This function is also based on customer feedback, and supports customers who want to work on every "nth page". An example would be a file that contains multiple four page sets, with corrections that need to be made on every fourth page. This is now possible with this new version.
Another new Action can check for complex pages with a large amount of nodes. Such pages can bottleneck production due to the excessive rip times needed to process them. An additional Action can be used to find complex pages so they can be edited to ensure they will output in a timely manner, if necessary such pages can be converted to images to achieve this. With both Actions, the number of nodes checked can be changed to suit the customer's requirements.
Easy handling of PDFs generated from Office documents
Printers in all markets receive PDF files from customers that have been created from a variety of applications, such as PDFs from Word or other Microsoft Office applications. Fixing these files often requires a great deal of work for the printer, and sending them back to the customer is time consuming and causes delays.
To make these files work, PitStop13 update 1 includes a special Preflight Profile designed to fix Office based PDF files. The Preflight Profile assumes that the file will be incorrect due to its creating application. Then, with just one click, PitStop supplies the fixes the file needs in order to be printed correctly.
Enfocus originally made this preflight profile available to members of the PitStop User Group on LinkedIn. Since then, it has been downloaded and tested by over 500 users.
Based on their positive feedback, this Preflight Profile is now included in PitStop Pro and Server as standard.
New Functionality for Default Action Lists
Crop Images
This new Action enables users to automatically delete any white border pixels from an image. This is particularly useful as it enables subsequent Actions to work on the size of visible objects.
Copy, Cut and Paste Objects to Clipboard
Many customers have requested Cut, Copy and Paste in Action Lists. Enfocus is pleased to report that these Actions are available in this release. The Action needs a selection to define the objects that are to be cut or copied. Users will need to define a clipboard and give it a name, and can use up to 1,000 clipboards.
The new Paste Action contains similar options to those available in the Add Copied Graphic Action. Users can paste single or multiple items, and have options for distribution or set values for the white space between the pasted objects.
New ICC Profiles
PitStop 13 update 1 ships with the latest ICC profiles from Fogra (FOGRA51 and 52), which are also available as Output intents.
In addition, the WAN-IFRAnewspaper26v5, a new ICC Profile for newspapers has been installed.
The latest GWG Preflight profiles for Packaging are also included in this release. These profiles are based on the GWG2012 specification.
Improvements to Acrobat DC support
To ensure that PitStop will remain unaffected by future Adobe updates, the Macintosh installer will now place the PitStop plug-in within an external Library directory. Previously, the application plug-in directory was removed upon update, which meant users had to reinstall PitStop.
Compatible with Latest Operating Systems
With the release of PitStop 13 update 1, Macintosh OSX version 10.11, called El Capitan, and Windows 10 are now officially supported.
"Print Service Providers may serve different markets, but they all face a similar challenge: to get the PDFs they receive from customers into production quickly, easily, and without errors. The features in Pitstop 13 update 1 give printers new tools to meet this challenge, regardless of the market they serve."

Andrew Bailes-Collins, Senior Product Manager PitStop, Enfocus
See what's new in PitStop 13 update 1, click here.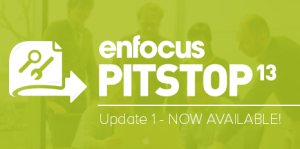 Enfocus is a leading software company specializing in the development of tools to control the quality of PDF files for print and to automate workflow processes in the graphic arts industry. The company's innovative solutions streamline the workflow throughout the complete production chain – from design to final print –…
Read more