In cooperation with our member ORPALIS the PDF Association is organizing the first PDF Day France. As all lectures will be held in French, you will find more information - also in French - here.
Paris – 4 février 2019 – La PDF Association, dont l'objectif est de promouvoir les implémentations de documents électroniques basées sur des standards ouverts en utilisant la technologie PDF à travers l'éducation, l'expertise et le partage d'expérience pour les parties prenantes du monde entier, organise pour la première fois en France, son PDF day jeudi 4 avril 2019 à Toulouse.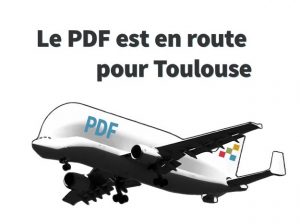 Le PDF Day France est le premier événement en français organisé par ORPALIS, membre de la PDF Association et éditeur des SDK GdPicture.NET et DocuVieware.
Avec la transformation numérique, le format PDF est plus que jamais indispensable pour les nouvelles applications de gestion documentaire. Le PDF Day est l'événement à ne pas manquer : de nombreux experts et membres de la PDF Association venus de toute l'Europe animeront des conférences techniques autour des normes ISO PDF, de l'accessibilité, l'optimisation, la structure et la sécurité des documents PDF. L'événement est également l'occasion pour les participants de partager les bonnes pratiques dans plusieurs secteurs d'activités.
On ne vient pas à Toulouse sans rencontrer des responsables d'Airbus qui viendront au PDF Day pour expliquer l'utilisation du format PDF dans leur environnement de gestion de documents.
Agenda complet : https://pdfa.org/event/pdf-day-france-in-toulouse/
À propos d'Orpalis
ORPALIS est spécialisé dans l'automatisation des processus documentaires à grande échelle, en fournissant des kits d'imagerie et de gestion de documents ainsi que des outils logiciels grand public. ORPALIS est le créateur, développeur et propriétaire de la série complète de kits d'outils d'imagerie documentaire de la marque «GdPicture».
Plus de 13 000 développeurs basés dans plus de 70 pays ont inclus des composants GdPicture dans leurs applications. En 2011, ORPALIS lance PaperScan, marquant ainsi le début d'une nouvelle gamme de produits destinés aux utilisateurs finaux. PDF Reducer est lancé en 2013. En 2015, un kit de visualisation et de gestion de documents HTML5 appelé DocuVieware est mis à la disposition du public. La même année, un outil logiciel de conversion de documents numérisés au format PDF / OCR pouvant faire l'objet d'une recherche, ORPALIS PDF OCR, est lancé. En 2016, la visionneuse de documents HTML5 gratuite DocuVieware Lite est mise à disposition de tous. PassportPDF, lancé en 2018, est une infrastructure cloud moderne offrant des microservices freemium dédiés à la résolution des problèmes de gestion de documents des utilisateurs professionnels et du grand public.
Sites web : http://www.orpalis.com/ http://www.gdpicture.com/ www.docuvieware.com.
À propos de la PDF Association
Créée au départ en tant que centre de compétences PDF / A en 2006, la PDF Association est aujourd'hui une organisation internationale qui promeut la sensibilisation et l'adoption de normes ouvertes dans les applications de documents numériques en utilisant la technologie PDF. L'association facilite l'éducation, la mise en réseau et la communication, ainsi que le partage d'expertise et d'expérience avec les parties intéressées du monde entier. Les membres actuels comprennent plus de 110 entreprises et de nombreux experts en la matière de plus de 20 pays.
Le conseil d'administration comprend des leaders du secteur tels que Adobe, Callas Software, Datalogics, Dual Lab, Foxit, Intarsys Consulting, iText, les solutions Levigo, Nitro Software et PDFTron, ainsi que Peter Wyatt, chef du projet ISO 32000. L'association est présidée par Matt Kuznicki, Chief Technology Officer de Datalogics Inc.. Le directeur exécutif est Thomas Zellmann.
Sites web : https://pdfa.org
Contact presse :
Pascale Desmaele
NEXTUAL Communication
Tél : 06 11 48 30 36
Email : pascale@nextual.fr