According to a study by Keypoint Intelligence, automation and business success are directly related. The printing companies that have seen sales increase in the past five years or expect to do so also have the highest level of automation. This correlation is quite understandable, because after all, automation can increase production speed and reduce manual effort and thus costs.
Digital printing and the associated possibilities for individualization and short runs mean that the number of files to be processed in prepress is increasing, even as print volumes fall. This inevitably results in the situation that without automation, output and print service providers cannot meet the still high quality requirements of their customers with economically justifiable effort. An automation tool should therefore naturally be able to handle not just the usual checking and correction processes, e.g. with regard to PDF/X, which is the case with all mature preflight solutions available today. It should go beyond that – what does that mean in label print?
Print templates in label printing usually contain - in addition to the print data itself - further information, very often a die-cutting contour, for example. This and other data, such as a legend or dimensions, must be recognized as such by the automatic machine and taken into account accordingly during checks and corrections. For example, it will be necessary to convert all spot colors to CMYK before output on the digital press. Since the die cutting contour is usually also created as a spot color, it must be recognized as such and then excluded from this conversion. Since the die cutting contour encloses the area in which elements to be printed are located, it may be necessary to limit checks to objects within the die cutting contour. For example, very small text is only problematic if it is within the die-cutting contour, i.e., within the "finished" label. In addition, it is important to ensure that text required by the food regulatory authority for example is not too close to the die-cutting line which could then be cut off during die-cutting.
However, modern workflows for automated processing of PDF files go even further.
Individualization: PDF templates contain the static label content and are individualized with dynamic content from an external data structure. This has to happen extremely quickly due to the very high printing speed of modern, digital presses – and label printing is no exception.
Bar and QR codes: A similar case is the application of bar or QR codes, which must be generated either in the print area for individualized labels or outside the cutting contour for post-print production control.
Extract cutting contour: The die cutting contours already mentioned should not be printed, but are of course necessary for production. The coordinates encoded in the PDF must therefore be converted into a format that the die-cutting machine can process. PDF is rarely suitable for this while SVG, DXF or other formats are more common.
Derive bleed : In label printing, the actual printed objects are typically not rectangular: it is indicated by the cutting contour and can have all kinds of shapes and, moreover, can have holes in them. Die-cutting machines require a tolerance range. Therefore, bleed is required to ensure that the ink to be printed reliably reaches the edge of the die-cut label. Automatically creating such bleed is not as straightforward as for rectangular print shapes because the engine will have to deal with overlapping bleed along the cutting contour.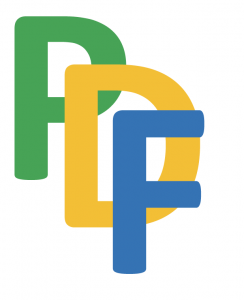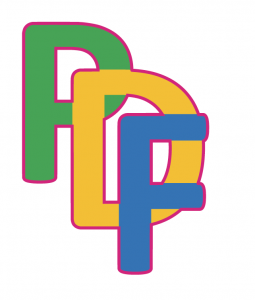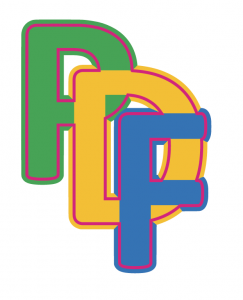 Deriving new objects: In many cases, the material to be output must first be added. In label printing, for example, when outputting on transparent substrates a white form might be needed. Other examples are deriving partial varnish forms or the die cutting contour from the printed shape. In order to create such content in an automated way first existing vector or image elements are filtered according to relevance and converted a shape. This shape can then be enlarged or reduced to be – depending on the requirements of the job – slightly outside or inside of the print shape. Sometimes it may be necessary to invert the shape - for example, the color white may be added only or in addition where there are no objects on the page. In other cases the (expensive) white should only be printed where other inks are not already sufficiently present, e.g. if the total coverage of all other inks is below 200%. The automation engine should allow for setting appropriate thresholds.
Nesting: Finally, nesting, i.e. assembly, is about automatically placing the motifs in such a way that the area of the substrate is optimally utilized, thus generating as little waste as possible.
Let me close with a view into the future. The distinction between print and other data is essential for the automation of label printing. Such "non-print data" (e.g. the cutting contour) is today mostly indicated using spot colors. Any automation engine struggles with the fact that the name of the spot colors depends on the habits and creativity of its creator only. One of the first steps in any automated label production workflow therefore is to identify spot colors used for "non print data", e.g. identify the cutting contour from spot color names like "punch", "cutting edge", "die-cutting contour" or else.
For some time now an international standard "Processing Steps" (ISO 19593) exists that addresses this issue by specifying standard names for non print data. These standard names are to be added as new metadata to PDF layers, our cutting contour example will use "Structural:Cutting". If used in the print layouts submitted to the printer "Processing Steps" enables even more extensive automation and more and more applications already support this standard. In addition, further individualization and variabilization of print data is generally expected. Last but not least, the general trend towards automation will also continue and intensify (not only) in label printing.