Website is undergoing upgrades. Some features are unavailable, however event registration still works.
Deutsche Übersetzung ein/ausblenden
Acobat Standard DC
Schlau und organisiert -  So fühlen Sie sich - und so werden Sie von anderen gesehen - wenn Sie die PDF-Werkzeuge in Adobe Acrobat Standard DC mit Adobe Document Cloud-Diensten verwenden, um Dokumente vorzubereiten und zu teilen. Erstellen, Bearbeiten, Signieren und Verfolgen von Dokumenten u. Formularen mit Acrobat Standard DC. Erreichen Sie mehr - im Büro oder unterwegs. Von Adobe, der Führer in sicheren digitalen Dokumenten seit über 20 Jahren.
Überall arbeiten. Erstellen, bearbeiten und signieren Sie PDFs mit der Acrobat Reader DC mobile App. Greifen Sie einfach auf Dateien über Desktop, Web und über mobile Endgeräte zu.
Alles editieren Bearbeiten Sie sofort PDFs direkt in Acrobat oder exportieren Sie diese in Office Formate.
Papier Unterschriften ersetzen. Senden, Verfolgen, Verwalten und Speichern von signierten Dokumenten mit einem kompletten, eingebauten E-Signatur-Service.
Absichern wichtiger Dokumente. Verhindern Sie, dass andere sensible PDF-Dateien kopieren oder editieren.
Eliminieren Sie Papier Sendungen. Senden, Verfolgen und Bestätigen der Zustellung von elektronischen Dokumenten.
Acrobat Standard DC ist Teil der Adobe Document Cloud, der einzigen Komplettlösung für die End-to-End-Digitale-Transformation Ihrer kritischsten Dokumentenprozesse. Adobe ist der führende Anbieter für sichere digitale Dokumente und herausragende digitale Erfahrungen, die Auswirkungen auf Ihre Geschäfte haben.
Acobat Standard DC
Produced by Adobe
Smart and organized. That's how you'll feel — and how others will see you — when you use the PDF tools in Adobe Acrobat Standard DC with Adobe Document Cloud services to prepare and share documents. Create, edit, sign, and track documents with Acrobat Standard DC, and use Document Cloud services to accomplish more — in the office or on the go. From Adobe, the leader in secure digital documents for over 20 years.
Work anywhere. Create and sign PDFs with the new Acrobat DC mobile app. And easily access files across desktop, web, and mobile.
Edit PDFs. Edit PDFs directly in Acrobat or export to Office formats.
Replace ink signatures. Send, track, manage, and store signed documents with a complete, built-in e-signature service.
Protect important documents. Prevent others from copying or editing sensitive information in PDFs.
Eliminate overnight envelopes. Send, track, and confirm delivery of documents electronically.
Acrobat Standard DC is part of Adobe Document Cloud, the only complete solution for achieving end-to-end digital transformation of your most critical document processes. From Adobe, the world's trusted leader in secure digital documents and standout digital experiences that drive business impact.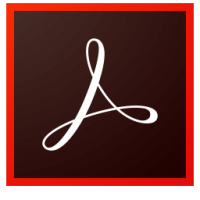 WordPress Cookie Notice by Real Cookie Banner