Deutsche Übersetzung ein/ausblenden
Acrobat Pro DC
Einfach und doch professionell. Diesen Eindruck werden Sie haben, wenn Sie Adobe Acrobat Pro DC und die Adobe Document Cloud-Dienste verwenden. Professionell wird auch das Ergebnis, das Sie mit Acrobat liefern werden, um die Geschäftsdokumente Ihres Unternehmens vorzubereiten und zu verteilen. Holen Sie sich die komplette Lösung für die Arbeit mit PDF-Dokumenten auf Ihren Schreibtisch, und verwenden Sie Document Cloud-Dienste, um mehr zu erreichen, wenn Sie unterwegs sind. Von Adobe, dem Marktführer für sichere digitale Dokumente seit über 20 Jahren.
Überall arbeiten. Erstellen, bearbeiten und signieren Sie PDFs mit der Acrobat Reader DC mobile App. Greifen Sie einfach auf Dateien über Desktop, Web und mobile Endgeräte zu.
Alles editieren. Bearbeiten Sie sofort PDFs und gescannte Dokumente, genauso natürlich wie jede andere Datei - mit revolutionärer Imaging-Technologie.
Papier Unterschriften ersetzen. Senden, Verfolgen, Verwalten und Speichern von signierten Dokumenten mit einem kompletten, eingebauten E-Signatur-Service.
100%iger PDF Standard garantiert. Acrobat Pro kann nicht nur in alle PDF ISO Standards abspeichern, sondern auch normale PDF Dokumente in PDF/A, PDF/X, PDF/E, PDF/UA oder PDF/VT korrigieren und umwandeln.
Keine grauen Haare bei Druckvorstufe. Acrobat Pro DC enthält alle notwenigen Werkzeuge, um PDF´s im Prepress Bereich aufzubereiten oder zu konvertieren.
Wiederkehrende Prozesse automatisieren. Acrobat Pro verfügt über einen Batchprozessor, der Befehlsfolgen wie z.B. Barrierefreiheit automatisiert
Dokumente gleichzeitig korrigieren. Lassen Sie mehrere Team Mitglieder gleichzeitig am selben Dokument Kommentare und Korrekturen vornehmen
Unterschiede leicht identifizieren. Der Dokumentenvergleich von Acrobat Pro visualisiert die Unterschiede zwischen zwei Dokumentenversionen sehr eindrucksvoll für Texte, Graphiken und Pixelbilder.
Absichern wichtiger Dokumente. Verhindern Sie, dass andere sensible PDF-Dateien kopieren, editieren. Schwärzen Sie sensible Daten aus wichtigen Dokumenten.
Acrobat Pro DC ist Teil von Adobe Document Cloud, die einzige Komplettlösung für die End-to-End-Digitale-Transformation Ihrer kritischsten Dokumentenprozesse. Adobe ist der führende Anbieter für sichere digitale Dokumente und herausragende digitale Erfahrungen, die Auswirkungen auf Ihre Geschäfte haben.
Acrobat Pro DC
Produced by Adobe
Polished and professional. That's the impression you'll make — and the work you'll deliver — when you use Adobe Acrobat Pro DC with Adobe Document Cloud services to prepare and share your company's business documents. Get the complete solution for working with PDF documents at your desk, and use Document Cloud services to accomplish more when you're on the go. From Adobe, the leader in secure digital documents for over 20 years.
Work anywhere. Create, edit, and sign PDFs with the Acrobat Reader DC mobile app. And easily access files across desktop, web, and mobile.
Edit anything. Instantly edit PDFs and scanned documents as naturally as any other file—with revolutionary imaging technology.
Replace ink signatures. Send, track, manage, and store signed documents with a complete, built-in e-signature service.
Protect important documents. Prevent others from copying or editing sensitive information in PDFs.
Eliminate overnight envelopes. Send, track, and confirm delivery of documents electronically.
Acrobat Pro DC is part of Adobe Document Cloud, the only complete solution for achieving end-to-end digital transformation of your most critical document processes. From Adobe, the world's trusted leader in secure digital documents and standout digital experiences that drive business impact.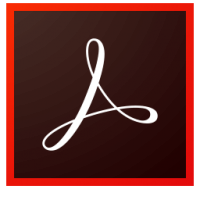 WordPress Cookie Notice by Real Cookie Banner