Deutsche Übersetzung ein/ausblenden
axaio MadeForLayers
Effiziente Ebenenorganisation mit Ebenenansichten für Adobe® InDesign und Illustrator
axaio MadeForLayers ist ein Plug-In für Adobe InDesign und Adobe Illustrator, das die Erstellung und Bearbeitung komplexer Dokumente wesentlich vereinfacht und optimiert. Es spart Layoutzeit und minimiert menschliche Fehler beim Arbeiten mit Dokumenten, die eine Vielzahl von Ebenen enthalten. Mit axaio MadeForLayers werden unterschiedliche Ebenen in Ebenenansichten kombiniert, die es dem Anwender ermöglichen, z.B. regionale oder sprachspezifische Versionen eines Dokuments mit einem einzigen Mausklick anzuzeigen. Im Verpackungsdruck bietet diese Ebenenhandhabung eine bessere Übersichtlichkeit bei der Unterscheidung mehrerer technischer Versionen – alles auf einen Blick. Ebenso verfügbar als Bestandteil von axaio MadeToPrint –– der intelligenten Ausgabe-Automatisierungslösung –– können verschiedene Ebenenansichten automatisiert gedruckt oder nach PDF exportiert werden. In kürzester Zeit erstellt man auf diese Weise, Ausgabeformate für unterschiedliche regionale bzw. sprachspezifische Versionen –– Verwechslungen von Ebenen ausgeschlossen!
Einsatzbereiche
Für die mehrsprachige Produktion
Verwenden Sie Ebenenansichten, um Ihre sprachspezifischen Dokumente zu organisieren. Indem Sie alle zu einer bestimmten Sprache gehörenden Ebenen in einer Ebenenansicht gruppieren, genügt ein einziger Mausklick, um zwischen den verschiedenen Ebenen umschalten zu können. Das Risiko, dass Fehler beim Arbeiten mit Ebenen unterlaufen, wird erheblich reduziert, außerdem wird die Ebenenhandhabung einfacher und kontrollierbarer. Mithilfe der cleveren Ausgabefunktionen von axaio MadeToPrint können Sie anschließend im Handumdrehen entweder eine PDF-Masterdatei mit allen Sprachversionen oder eine PDF-Datei für jede Sprache erstellen.
Für die Erstellung regionaler Publikationen
In regionalspezifischen Publikationen wie Verkaufsprospekten, Katalogen usw. werden in der Regel Teile des Inhalts für unterschiedliche Regionen oder Zielgruppen angepasst. Durch das Erstellen von Ebenenansichten mit axaio MadeForLayers ist es möglich, diese verschiedenen regionalen Ausgaben zu organisieren. Diese Ansichten können Sie für vorhandene Dokumente anlegen oder Sie erstellen eine Vorlage, um die Bearbeitung aller zukünftigen Produktionen basierend darauf zu optimieren. Auch hier können Sie im Anschluss daran in Verbindung mit axaio MadeToPrint separate Dateien für jede regionale Ausgabe speichern.
Für den Verpackungsdruck
In einem typischen Verpackungs-Workflow müssen mehrere Projektbeteiligte verschiedene Versionen eines Entwurfs überarbeiten, kommentieren und genehmigen. Das Generieren und Nachverfolgen all dieser Versionen kann sich als logistischer Kraftakt erweisen. Durch die Organisation des Quelldokuments aus Illustrator oder InDesign mit den entsprechenden Ebenenansichten für eine technische, marketingorientierte und rechtliche Ansicht fällt es leicht, eine einzige PDF-Datei mit axaio MadeToPrint zu generieren. – Alle Anwender können auf einen Blick die Informationen sehen, die sie benötigen.
Systemanforderungen
unterstützt Adobe InDesign CS6-CC

unterstützt Adobe Illustrator CS6-CC

unterstützt Adobe InDesign Server CS6-CC als Bestandteil von MadeToPrint

für Windows und Mac
Vorteile
Schnellere Dokumentenbearbeitung mit Ebenenansichten
Definieren Sie einmalig logische Ebenenansichten, und schalten Sie dann während der Bearbeitung mit einem Mausklick zwischen den Ebenenansichten um.
Standardisierte Verarbeitung der Dokumentenerstellung
Speichern Sie Ebenenansichten (Inhalt: Ebenennamen und Metadaten-Definitionen), und wenden Sie diese auf neue oder vorhandene Dokumente an, um die Strukturierung von Dokumenten zu standardisieren und um die Produktion zu automatisieren.
Fehlerfreie, konsistente Ausgabe
Lassen Sie mit axaio MadeToPrint alle unterschiedlichen Versionen einer Publikation in einem Arbeitsgang ausgeben, und nutzen Sie standardisierte Einstellungen, ohne Gefahr laufen zu müssen, Inhalte in komplexen Dokumenten durcheinander zu bringen oder zu vergessen.
Fokus
Konzentrieren Sie sich auf bestimmte Bereiche Ihres Jobs – Effizientes Arbeiten.
Für jeden offen
Für Rechner, auf denen axaio MadeForLayers nicht installiert ist und somit das Wechseln zwischen den verschiedenen Ebenenansichten nicht möglich ist, gilt trotzdem: axaio MadeForLayers nutzt ausschließlich InDesign-Standardfunktionalität. Dateien, die mit axaio MadeForLayers bearbeitet wurden, sind ebenso uneingeschränkt auf anderen Rechnern verwendbar.
Funktionen
Gruppieren von Ebenen in logischen Ebenenansichten zur Optimierung folgender Arbeitsweisen:

Arbeiten mit Dokumenten, die mehrere Sprachversionen enthalten (Lokalisierungs-Workflows)

Arbeiten mit Dokumenten, die regionale Versionen von Anzeigen oder redaktionellen Inhalten enthalten (regionale Publikationen)

Arbeiten mit komplexen Verpackungsdokumenten, die Entwurfs- oder Technikebenen enthalten
Benutzerfreundliche und intuitive Ebenen-Palette zur effizienten Verarbeitung der Ebenenausgabe mit drei speziellen Paletten-Modi:

Minimalansicht – für den schnellen Wechsel zwischen Ebenenansichten

Standardansicht – für das zusätzliche Erstellen, Bearbeiten oder Löschen von Ebenen

Erweiterte Ansicht – für das zusätzliche Erstellen, Bearbeiten oder Löschen von Ebenenansichten und Hinzufügen/Bearbeiten von Metadaten in Ebenen
Speichern von Ebenenansichts-Kombinationen auf der Festplatte und Importieren dieser in vorhandene Dokumente, um Ebenenansichten schnell auf ähnliche Dokumente anwenden zu können

Hinzufügen von Metadaten zu Ebenen zur Workflow-Automatisierung, basierend auf standardisierten Metadaten anstelle von Ebenennamen

Einstellen einer bestimmten Ebenenansicht als Standarddokumentansicht, um festzulegen, welche Ebenen beim Öffnen des Dokuments sichtbar sind

Erstellen einer neuen Ebenenansicht aus den aktuell sichtbaren Ebenen; Hinzufügen bzw. Entfernen von Ebenen zu/aus Ebenenansichten zur Anpassung
In Kombination mit axaio MadeToPrint
Exportieren in eine einzige PDF-Datei, die alle unterschiedlichen Ebenenansichten enthält, mit einem Format, das konform zum aktuellen ISO-Standard PDF/X-4 ist

Exportieren der Standardebenenansicht in eines der Dateiformate, die von axaio MadeToPrint unterstützt werden (PostScript, EPS, PDF, IDML, Bildformate…)

Exportieren jeder Ebenenansicht in eine separate Ausgabedatei in einem der Dateiformate, die von axaio MadeToPrint unterstützt werden (PostScript, EPS, PDF, IDML, Bildformate…)
axaio MadeForLayers
Produced by axaio software GmbH

Efficient layer organization with layer views for Adobe® InDesign® and Illustrator
®
axaio MadeForLayers is a plug-in for Adobe InDesign and Illustrator that simplifies and streamlines the creation and editing of layer-heavy documents. It saves design time and reduces human errors while working with complex documents.
Different layers can be combined into layer views, showing different language or regional variants of a document with a single click. In packaging environments you can clearly differ between multiple e.g. technical or marketing versions with one hand grab.
As built-in functionality in axaio MadeToPrint, the intelligent output automation solution, different layer views can automatically be printed or exported to PDF, instantly creating output for all different language or regional versions, without any chance of mistakes.
Fields of application
For multilingual production
Use layer views to organize your multilingual documents. By grouping all layers for a specific language into a layer view, switching between layers literally takes only one click, hugely reducing the chance on error and minimizing confusion while editing. With the output finesse of axaio MadeToPrint you can then easily create either one master PDF file containing all language variants, or one PDF file for each language.
For regional publications
In region-specific publications such as sales brochures, catalogues, etc. parts of the content are typically customized for different regions or target groups. Creating layer views with axaio MadeForLayers allows organizing these different regional editions. This can be done for existing documents or a template can be created to streamline editing of all future production. Again, in combination with axaio MadeToPrint, you can easily save separate files for each regional edition afterwards.
For packaging service providers
In a typical packaging workflow many stakeholders must review, comment and approve different versions of a design. Generating and keeping track of all of these versions can prove to be a logistical nightmare. Organizing the source Illustrator or InDesign document with the proper technical, marketing and legal layer views makes it easy to generate a single PDF file with axaio MadeToPrint and allows everyone to see just the information they need.
General
Supports Adobe InDesign CC 2017 - ID 2021

Supports Adobe Illustrator CC 2017 - CC 2019

Supports Adobe InDesign Server CC 2017 - ID 2021 as part of MadeToPrint
Benefits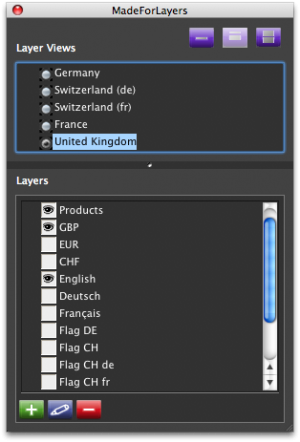 Quicker document editing with layer views


Simply define logical layer views for your document once and then switch between layer views while editing with one mouse-click.

Standardized document creation processing


Save layer views – containing layer names and metadata definitions – and apply them to new or existing documents to standardize how documents are structured and to enable automation in production.

Error-free, consistent output


In combination with axaio MadeToPrint, output all different versions of a publication in one go, with standardized settings and without risk of mixing up or forgetting content in complex documents.

Focused working


Focus on particular parts of your job.

Open for everyone


Even though the single-click layer view switching will not be available on workstations without MadeForLayers, MadeForLayers uses only standard InDesign functionality. Files created or edited with MadeForLayers are perfectly usable on other workstations.
Key Features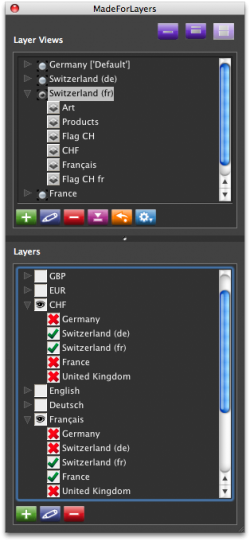 Group layers into logical layer views to streamline

Working with documents containing multiple language versions (localization workflows)

Working with documents containing regional variants of ads or editorial content (regional publications)

Working with complex packaging documents containing design and technical layers
User-friendly and intuitive layer palette for efficient layer handling, with three specialized palette states:

Minimal view, to quickly switch between layer views

Normal view, to additionally create, edit or delete layers

Extended view, to additionally create, edit or delete layer views and add or edit metadata to layers

Save layer view combinations to disk and import them into existing documents to quickly apply layer views to similar documents

Add metadata to layers to enable workflow automation based on standardized metadata rather than layer names

Set a specific layer view as the default document view to determine which layers will be visible initially when the document is opened

Create a new layer view from the currently visible layers; add or remove layers from layer views to adjust
In combination with axaio MadeToPrint
Export to a single PDF file containing all different layer views and in a format compliant with the latest ISO PDF/X-4 standard

Export the default layer view to any of the file formats supported by MadeToPrint (PDF, PostScript, EPS, IDML, image formats…)

Export each layer view to a separate output file in any of the file formats supported by MadeToPrint (PDF, PostScript, EPS, IDML, image formats…)
WordPress Cookie Notice by Real Cookie Banner