Website is undergoing upgrades. Some features are unavailable, however event registration still works.
Deutsche Übersetzung ein/ausblenden
jadice document platform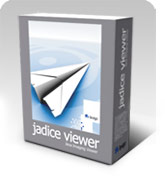 Die jadice document platform ist eine auf JAVA entwickelte Technologie mit zentraler Dokumentverarbeitungskomponente.
Als flexible und integrationsfreundliche Toolbox ist sie unterschiedlich einsetzbar und ermöglicht so individuelle Archivclient- sowie Server-Lösungen im professionellen Dokumentenmanagement.
Der Dokumentenbetrachter jadice viewer ist mit seinem großem Funktionsumfang ein wesentlicher Bestandteil der jadice document platform.
Besondere Features

Benutzeroberfläche mit verbessertem Bedienkonzept, neuen Annotationseditoren und Lightbox-Seitenübersicht
tools API eröffnet verbesserte Möglichkeiten, der GUI eigene Funktionen hinzuzufügen
Neuer, übersichtlich gestalteter Druckdialog
Seitenlayout in unterschiedlichen Ausführungen
Umfangreich erweiterter Drag&Drop Support
Erweiterte Flexibilität des jadice Dokumentenmodells: Zusammenfassung von Seiten zu Dokumenten oder zu Akten
Einsatzgebiete
Die jadice document platform ist mit ihren Zusatzkomponenten in folgenden Aufgabenbereichen des DMS einsetzbar:
Migration und Datenimport
Dokumentbearbeitung und -konvertierung
Unterschriftenerfassung
Signatur
Barcodeerkennung
Konsolidierter Archivzugriff

Paketierung
jadice steht in zwei Paketierungsvarianten mit jeweils dem gleichen Funktionsumfang zur Verfügung:
Komplettlösung
modulare Lösung mit zu Einheiten zusammengefassten Funktionen
jadice document platform
Produced by levigo solutions gmbh
The jadice document platform is a technology developed on JAVA with a central document processing component.
As a flexible and integration-friendly toolbox, it can be used in a variety of ways and thus enables individual archive client and server solutions in professional document management.
The document viewer jadice viewer with its wide range of functions is an essential component of the jadice document platform.
Special Features
User interface with improved operating concept, new annotation editors and lightbox page overview
tools API enables improved possibilities to add own functions to the GUI
New, clearly arranged print dialog
Page layout in different versions
Extensively extended drag&drop support
Enhanced flexibility of the jadice document model: Summary of pages to documents or files
Areas of use
The jadice document platform with its additional components can be used in the following DMS task areas:
Migration and data import
Document processing and conversion
signature capture
signature
barcode recognition
Consolidated archive access
Packaging
jadice is available in two packaging variants, each with the same range of functions:
Complete solution
Modular solution with functions combined into units

Product Type
---
Java
Features
---
Annotate
Print
Sign
Stamp
Validate
View
Convert to PDF
Product sectors
---
Accessibility
Archiving
Authentication
Content Management System (CMS)
Document Management System (DMS)
Enterprise Content Management (ECM)
Imaging and capture
Output
Printing
Validation
Viewer
Workflow management
WordPress Cookie Notice by Real Cookie Banner