Deutsche Übersetzung ein/ausblenden
Mobile Apps
Arbeiten Sie mit den mobilen Apps aus der Adobe Document Cloud. Leistungsstarke mobile Apps in Adobe Document Cloud macht es Kunden leicht, egal wo und mit welchem Endgerät sie arbeiten, ihre Geschäfte abzuwickeln. Mitarbeiter bekommen die Freiheit und Flexibilität, die sie benötigen, um Geschäfte schneller über Desktops und Endgeräte abzuwickeln. Kostenfreie Apps:
Adobe Acrobat Reader: Anzeigen, Unterschreiben, Kommentieren und Freigeben von PDFs - und Zugriff auf aktuelle Dateien - kostenlos. Erstellen, bearbeiten, exportieren und organisieren von PDFs funktioniert über verschiedene Ausbaustufen des kostenpflichtigen Abonnement-Dienstes.
Adobe Fill & Sign: Wandeln Sie schnell Papierformulare um und füllen diese mit einer smarten Autofill Funktion, die ähnlich einer Schreibmaschine funktioniert aus und senden das Formular digital an den Empfänger
Adobe Scan: Verwandeln Sie Ihr mobiles Gerät in ein leistungsstarkes und intelligentes Scan- und Texterkennungswerkzeug, das schnell alles in durchsuchbare, qualitativ hochwertige Adobe PDFs erfasst und umwandelt.
Abonnenten von Adobe Sign, Acrobat DC und Adobe PDF Pack können auch ad-hoc unterschreiben:
Adobe Sign: Senden, Verfolgen und Verwalten von signierten Dokumenten von jedem Ort – auch direkte persönliche Host Signaturen sind möglich
Alle diesen mobilen Apps sind Teil der Adobe Document Cloud, der einzigen Komplettlösung für die End-to-End-Digitale-Transformation Ihrer kritischsten Dokumentenprozesse. Adobe ist der führende Anbieter für sichere digitale Dokumente und herausragende digitale Erfahrungen, die Auswirkungen auf Ihre Geschäfte haben.
Mobile Apps
Produced by Adobe
Powerful mobile apps in Adobe Document Cloud make it easy for customers to do business with you from any screen. And employees get the freedom and visibility they need to drive business faster across desktops and devices.
Free apps include:
Adobe Acrobat Reader: View, sign, annotate, and share PDFs — and access recent files — for free. Create, edit, export, and organize PDFs with different levels of paid subscription services.
Adobe Fill & Sign: Fill, sign, and send any form fast with smart autofill.
Adobe Scan: Turn your mobile device into a powerful and intelligent scanning and text recognition tool that quickly captures and converts anything into searchable, high-quality Adobe PDFs.
Subscribers of Adobe Sign, Acrobat DC, and Adobe PDF Pack can also sign on the go:
Adobe Sign: Send, track, and manage signed documents from anywhere, and get signatures in person.
All of these mobile apps are part of Adobe Document Cloud, the only complete solution for achieving end-to-end digital transformation of your most critical document processes. From Adobe, the world's trusted leader in secure digital documents and standout digital experiences that drive business impact.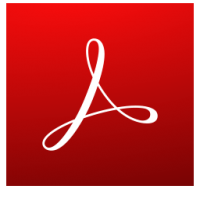 WordPress Cookie Notice by Real Cookie Banner