Deutsche Übersetzung ein/ausblenden
NOVO Mail
NOVO Mail ist eine innovative Lösung zur intelligenten E-Mail Verarbeitung und rechtssicheren Archivierung. Die Software analysiert Ihre eingehenden E-Mails automatisch, ordnet diese dem richtigen Geschäftsprozess zu und leitet sie an das Archiv im PDF/A-Format weiter. Während der Prozessverarbeitung erkennt NOVO Mail völlig automatisch Personen- und Vorgangsdaten aus gescannten Dokumenten und digitalen Informationen wie E-Mails sowie deren Anhängen. Durch die "unscharfe" Suche können selbst verstreute, unvollständige oder fehlerhafte Informationen richtig zugeordnet werden. Aufgrund einer hohen Erkennungsquote ist der manuelle Nachbearbeitungsaufwand nur sehr gering. NOVO Mail unterstützt alle Dokumentenformate sowie sämtliche Eingangskanäle und lässt sich durch seinen modularen Aufbau exakt an Ihre Unternehmensanforderungen anpassen.
Link zur NOVO Mail Produktseite: http://inovoo.com/de/produkte/novo-mail/
NOVO Mail
Produced by inovoo GmbH
NOVO Mail is an intelligent email management and legally compliant archiving solution.
This software automatically analyzes your incoming emails, assigns them to the correct business process and hands them over to your archive.
During processing, NOVO Mail identifies personal and transaction-related details in both scanned documents and digital information such as emails and their attachments, all without any manual intervention. "Fuzzy searching" means that even widely-distributed, incomplete or incorrect information can still be correctly assigned. Thanks to the system's very high recognition rate, manual post-processing work is kept low.
NOVO Mail supports all document formats and all input channels, and its modular structure means it can be customized to meet the exact needs of your business.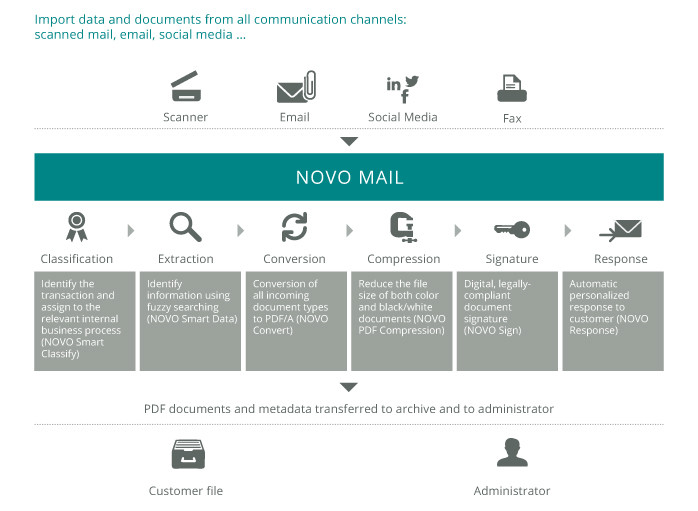 Link to the NOVO Mail product webpage:
http://inovoo.com/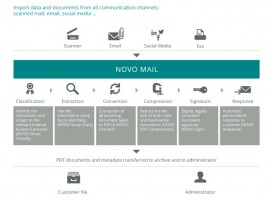 WordPress Cookie Notice by Real Cookie Banner