Website is undergoing upgrades. Some features are unavailable, however event registration still works.
PDFix Desktop Pro
Produced by PDFix
PDFix Desktop Pro is a professional PDF accessibility remediation software and a complex solution for PDF Accessibility, PDF Conversion and Data Extraction designed for professionals and businesses of all sizes.
PDFix Desktop creates fully accessible PDF/UA documents, from a simple manual remediation to a fully automated process powered by AI engines. PDFix Desktop supports PDF/UA-1 validation according to the Matterhorn Protocol.
Features:
Automated layout and complex structure recognition
Auto-Tag for adding tags to an untagged PDF
Easy tables and lists tagging from the selection
Processing links and annotations
Full customization of the validation profile(WCAG, Section 508)
Navigation to problematic element
Both auto-fix and manual-fix options
Compatible with PAC, Adobe Acrobat
Conversion to Responsive HTML
Conversion to JSON
Paragraphs, tables, images, lists, headers, footers extraction
Batch PDF conversions
Data scraping powered by AI
Watch PDFix YouTube for technical how-tos and detailed step-by-step video tutorials of the product, or visit our BLOG.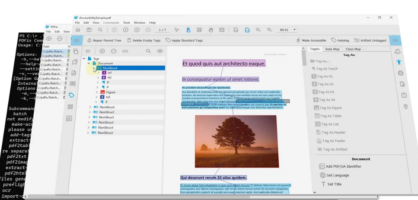 Product Type
---
Windows
MacOS
Linux
Server
Developer tool
PDF viewer/printer
Services
Web service
Workflow management
Utility
Free
Features
---
Tagged PDF
Annotate
Create
Modify page content
Redact
Print
Sign
Stamp
Validate
View
Developer tools
Convert from PDF
Extract
Object data
Product sectors
---
Accessibility
Content Management System (CMS)
Document Management System (DMS)
Forms
Imaging and capture
Printing
Validation
Viewer
Information technology
Publishing
Services & consulting
Software development
Tagged PDF creation
PDF/UA creation
Remediate
Verify
Viewer
WordPress Cookie Notice by Real Cookie Banner