Deutsche Übersetzung ein/ausblenden
PDFlib FontReporter
PDFlib FontReporter ist ein kostenloses Plugin für Adobe Acrobat zur Analyse von Fonts in PDF-Dokumenten. Per einfachem Mausklick erstellt FontReporter einen detaillierten Bericht über eine in Acrobat geöffnete PDF-Datei. PDFlib FontReporter erfasst allgemeine Daten, Fontinformationen sowie Glyphentabellen zu allen in einem PDF vorhandenen Fonts und erstellt ein separates PDF mit einem Fontreport. Das PDFlib FontReporter Plugin arbeitet mit folgenden Acrobat-Versionen:
Acrobat 8-DC Standard, Pro/Professional und Extended unter Windows.
Acrobat X/XI/DC Standard und Professional unter OS X 10.9 und höher.
Das Plugin funktioniert nicht mit Acrobat Reader/Adobe Reader.
Highlights von PDFlib FontReporter
kostenlos verfügbar
unterstützt CJK-Fonts (sowie alle anderen Fonttypen)
zeigt zu allen Zeichen die Unicode-Werte an
unterstützt OpenType-Einbettung (neu in Acrobat 7)
mit deutscher und englischer Benutzeroberfläche
Mehr als Acrobats Fontliste
FontReporter bietet weitaus mehr Informationen über einen Font als Acrobat, zum Beispiel Glyphennamen und Unicode-Mappings.
FontReporter verarbeitet CJK-Fontnamen, und das auch auf westlichen Systemen.
FontReporter liefert Glyphentabellen, so dass Sie die Glyphen eines Fonts betrachten können.
FontReporter erstellt ein PDF-Dokument mit seiner Ausgabe, das Sie speichern oder drucken können.
FontReporter verarbeitet ein PDF-Dokument vollständig, selbst wenn manche Seiten in Acrobat noch nicht angezeigt wurden.
PDFlib FontReporter
Produced by PDFlib GmbH
PDFlib FontReporter is a free plugin for analyzing fonts in PDF documents. It generates detailed information reports from any PDF file loaded into Adobe Acrobat. With a single click, PDFlib FontReporter collects general information, font-related information, and glyph tables for all fonts in a PDF and generates a font report in a separate PDF.
The PDFlib FontReporter plugin works with the following Acrobat versions:
Acrobat 8-DC Standard, Pro/Professional and Pro Extended on Windows.
Acrobat X/XI/DC Standard and Pro/Professional on OS X 10.9 and higher.
The plugin doesn't work with Acrobat Reader/Adobe Reader.
Highlights of PDFlib FontReporter
free product
supports CJK fonts (among all other font types)
presents Unicode values of all characters
supports OpenType embedding (new in Acrobat 7)
comes with user interface in German and English
More than Acrobat's font list
FontReporter provides much more information about each font than Acrobat, including glyph names and Unicode mappings.
FontReporter deals with CJK font names even on Western systems.
FontReporter provides glyph tables so that you can see the glyphs in a font.
FontReporter presents the output as a PDF document so that you can save or print it.
FontReporter is guaranteed to process the full document, regardless of which pages have already been displayed in Acrobat.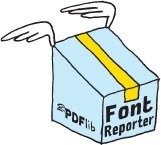 Features
---
Developer tools
Convert from PDF
Product sectors
---
Search
WordPress Cookie Notice by Real Cookie Banner