---
ISO/TS 32001
Document management — Portable Document Format — Extensions to Hash Algorithm Support in ISO 32000-2 (PDF 2.0)
This ISO Technical Specification (TS) document specifies how to extend the specifications in ISO 32000-2 (PDF 2.0) by adding support for the use of the Secure Hash Algorithm – 3 (SHA-3) and SHAKE256 hash algorithms.
ISO TS 32001 is now available at no cost!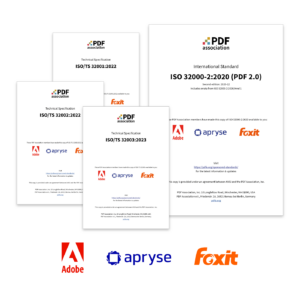 As of April 5, 2023, this Technical Specification is available from the PDF Association at no cost thanks to sponsorship support provided by Adobe, Apryse and Foxit. Read the press-release.