---
ISO/TS 32003
AES-GCM support in PDF 2.0
ISO/TS 32003 Document management — Portable Document Format — Adding support of AES-GCM in PDF 2.0 is a PDF 2.0 extension Technical Specification (TS) that was prepared by ISO TC 171 SC 2 WG 8.
The document extends PDF 2.0 to add support for 256-bit AES-GCM encryption. The existing PDF AES-CBC encryption is unaffected.
ISO TS 32003 is now available at no cost!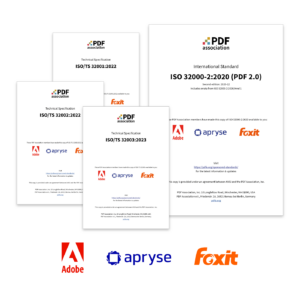 As of April 5, 2023, this Technical Specification is available from the PDF Association at no cost thanks to sponsorship support provided by Adobe, Apryse and Foxit. Read the press-release.