Introduction
Need to navigate complex financial pathways with thousands or millions of customers with compassion in a timely manner? RevSpring has been helping healthcare and financial services organizations do just that for decades. The company offers an omnichannel approach, using digital delivery and print to engage healthcare patients and financial clients based on their communication preferences. RevSpring further supports its clients with data analytics and payment solutions to manage their revenue cycles and accounts receivables.
Print and mail are a large part of their engagement platforms, and the numbers show the scale of the operation across three production facilities. Approximately four million pieces are produced and mailed in any 24-hour period. The print operations support twenty-nine million payments collected annually, resulting in $5.5 billion in collections. The print operations see constant challenges in meeting client service level agreements (SLAs) to produce time-sensitive mailings containing regulated personal information, in addition to supporting the various data and file formats supplied by their customers.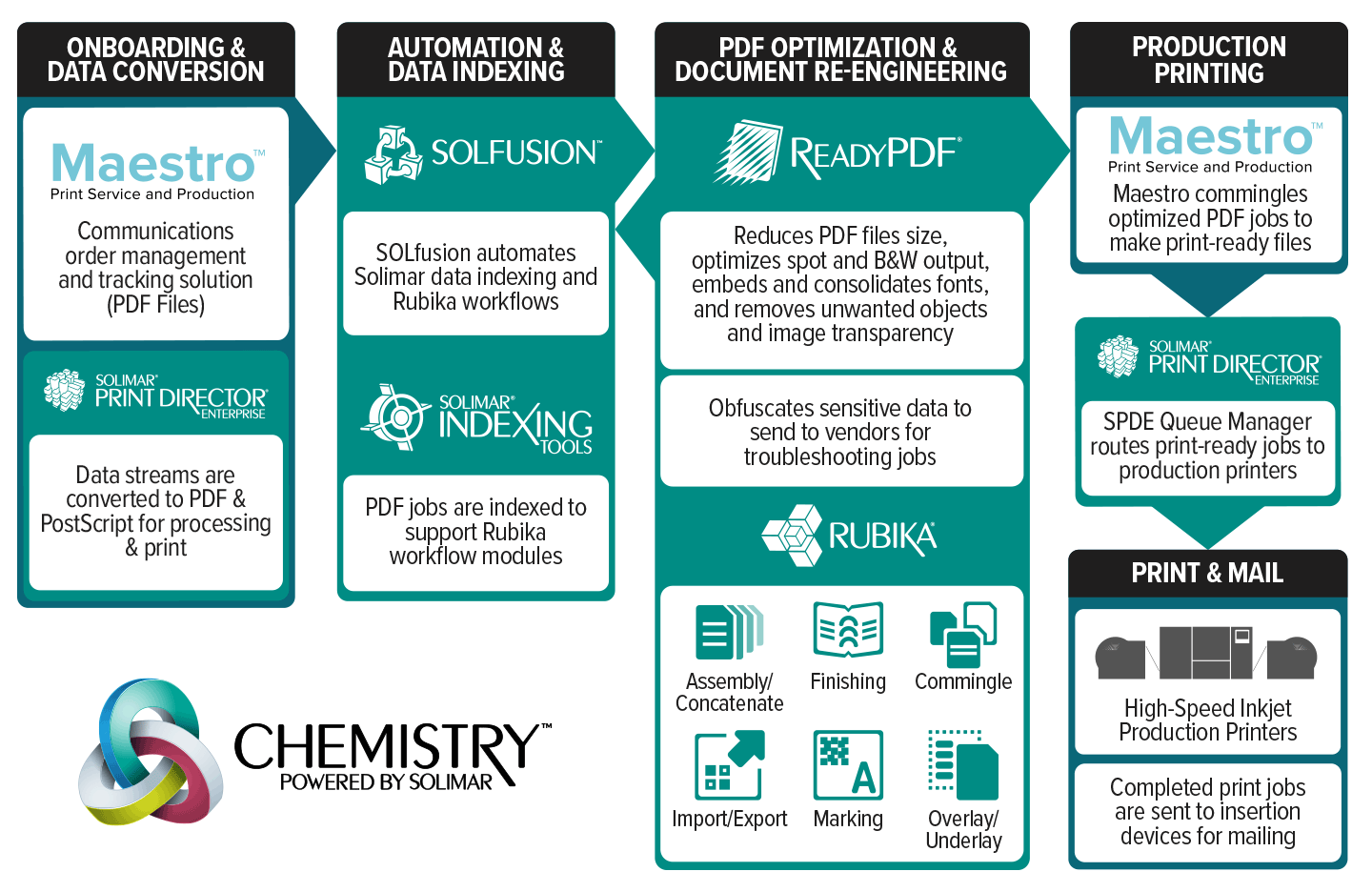 We recently caught up with Eric Hollingsworth, the Vice President of Operations, and Carrie Sublett, Graphics Manager, to learn how Solimar solutions play a pivotal role in the print and mail operations at RevSpring.
"With ReadyPDF, 90% of files that previously failed due to fonts, transparencies, or other common issues now process quickly and correctly."

- Carrie Sublett, Graphics Manager, RevSpring
The Medical Digitization Challenge
The US medical industry continues to adapt to the digitization of medical records. As far back as 2009, the US government was keen to digitize the medical profession, passing the Health Information Technology for Economic and Clinical (HITECH) Act that offered subsidies to providers adopting electronic medical records (EMR) solutions. A decade later, the percentage of physicians using an EMR system is nearly 90%, according to the CDC.
The EMR platforms offer many components to facilitate provider and patient services. Many include document design and editing tools for communications like Explanations of Benefits (EOBs), bills, and statements. But many of the EMR systems were designed for electronic presentment, not necessarily files suitable for printing. The PDF files created by the EMR systems must often be transformed for printing, enhancing: spot color and RGB color spaces, low-resolution images, transparent objects and flattening issues, and missing fonts and font characters. Due to the scale of print production at RevSpring, some files made it a challenge to meet customer SLAs when the digital front end (DFE) of the continuous-feed inkjet printer would struggle with the content. With such high volumes, finding and mitigating one challenging file can slow production significantly.
Solimar ReadyPDF — Just What the Doctor Ordered
For RevSpring, finding a scalable solution to enhance PDF files composed and supplied by their clients was critical. "We need to meet our customer SLAs regardless of the input format, so PDF images can't be an obstacle," explains Hollingsworth. RevSpring's in-house PDF-based order management and tracking solution, Maestro, already used Solimar Print Director Enterprise (SPDE) along with Rubika and SOLfusion to process and prepare customer files. As a result, ReadyPDF could quickly be added and implemented with the existing workflow infrastructure at RevSpring.
The traditional approach used standalone tools to preflight each problematic file, then make corrections. Those steps were time-consuming and led to inconsistencies based on the different profiles and corrections each designer applied. According to Sublett, "We started testing Solimar's ReadyPDF to see if we can create a one-size-fits-all to tackle the common issues with the healthcare system PDFs." Using ReadyPDF as a processing step within SPDE meant the file corrections could be standardized and automated as part of their thousands of existing workflows for the different lines of business.

The results from processing with ReadyPDF had an immediate impact. Errors in processing the customer-supplied PDFs were significantly reduced, and failures at the printer's DFE were virtually eliminated. According to Sublett, "With ReadyPDF, 90% of files that previously failed due to fonts, transparencies, or other common issues now process quickly and correctly." In addition to correcting the files, ReadyPDF also optimized the output, so files that previously required five hours to spool were now ready in minutes.
While the server-based ReadyPDF solution processes most of the approximately 10 million files, the standalone tool has been useful in keeping production moving in such a fast-paced environment. When new versions of customer-supplied PDFs arrive with missing fonts or other issues that stop production, RevSpring's in-house design team uses the standalone version of ReadyPDF to fix issues on-the-fly. When new problems are found and resolved during production, the team performs a post-mortem follow-up with programmers a few days later to apply a permanent fix to that line of business using the server version of ReadyPDF.
"We try to make data-driven decisions, and our data tells us that we are not going to have RIP-related errors anymore, largely due to ReadyPDF."

- Eric Hollingsworth, Vice President of Operations, RevSpring
Success Throughout Production
Seeing the success of ReadyPDF for correcting customer-supplied PDFs, the operations team continues to find other benefits. PDF optimization is now applied in several workflow stages, including when the customer uploads their files and before Maestro commingles it with other customer work. The upfront optimization means file issues can be fixed and eliminated before commingling with other customer work. The time to troubleshoot downstream issues with commingled files has been dramatically reduced. ReadyPDF has also normalized output from files generated from customer data across the four primary document composition platforms at RevSpring.
The operations team is also able to troubleshoot issues more effectively with its software and print OEM partners by using the obfuscation feature. For trouble files, the team can hide sensitive and personally identifiable data before sending them to the vendors for investigation.
Finally, the company has almost eliminated print test runs for customers. "We try to make data-driven decisions, and our data tells us that we are not going to have RIP-related errors anymore, largely due to ReadyPDF.", says Hollingsworth. The confidence in the workflow means customer onboarding is faster, and the cost of test runs has been nearly eliminated. With the various improvements brought by ReadyPDF as part of RevSpring's overall workflow, the company can continue to execute the vision and services for its varied customer base.
For the full case study and a video interview with RevSpring, please visit solimarsystems.com.

Solimar Systems enables organizations around the globe to onboard, make ready, enhance, manage and deliver print and digital communications. As an early adopter of the PDF output format, our Chemistry™ platform optimizes and drives a variety of print and electronic workflows including transactional and direct mail printing, accessibility, archive services,…
Read more