PDF Days Europe 2022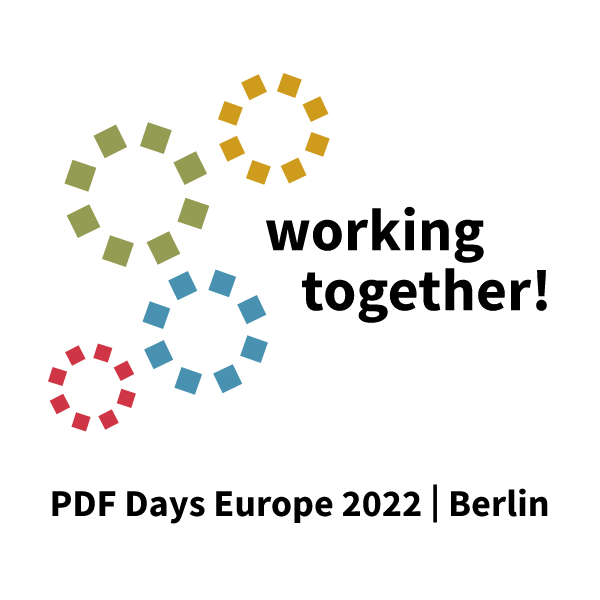 Working together - finally in-person in Berlin!
For over a decade PDF Days has offered high-quality presentations, education and networking opportunities dedicated to PDF technology. It's intended for developers, integrators, product managers and others who work directly with the world's chosen digital document format.
In 2022, PDF Days Europe 2022 is from September 12-13, 2022. All presentations will be live-streamed from Berlin, and will include interaction from the online as well as in-person audience.
Proposal submission deadline: Tuesday, May, 3rd, 2022

[wpcdt-countdown id="21329"]
Submit your presentation
Presenting at PDF Days Europe 2022 is a unique opportunity to demonstrate expertise, thought-leadership and to gain exposure. Sessions will be grouped into six topic areas based on the presentations selected by the Program Committee.
Key Dates
Next deadline: PDF Days proposals are due by Tuesday, May 3rd.
Those submitting successful presentation proposals will be notified by Tuesday, May 17th.
Initial draft slides (an outline is acceptable) are due by Monday, August 15 to allow time for feedback from the Program Committee.
Final presentations are due Friday, September 2.
Requirements
PDF Days presentations must reference PDF technology but are otherwise unlimited. Sessions may include (non-product) demonstrations, videos, etc. Topics presented as use cases, best practices, research results and future development are especially welcomed.
Sessions must be fundamentally educational, not promotional. Proposals are selected by the Program Committee based on interest and the educational value of the proposed content.
Each session will be 40 minutes; please assume 30 minutes for presentation and leave 10 minutes for questions.
Ideas
Compelling session topics could include (but are NOT limited) to:
Case studies
Leveraging cloud processing: how the Acme Corporation pushed its PDF document workflows into the cloud and now works exclusively using a browser.
Enabling communication: how 3D PDF helped rapid manufacture of ventilator parts, and what it means for manufacturing in general
Applying PDF to e-invoicing
Innovative uses of 3D PDF
PDF meets fintech, instech, healthcare
How PDF helped during the pandemic (e.g, vaccine passports)
Best practice
Migrating to PDF 2.0
Modeling approaches to reflowing PDF content
Error-handling: common mistakes, better recoveries
Creating efficient and compact PDF
Evaluating and benchmarking PDF
Better OCR results for scanned PDFs
Research results
Reliable data mining large scale PDF repositories
Addressing challenges in digital signature validation
Document management; is PDF special?
How to make users make better PDFs
The future
Can AI create quality Tagged PDF?
What's PDF's place in an HTML world? …or is it a database world?
What's the next big feature needed in PDF?
What's holding PDF back?
PDF and blockchain
Bear in mind that sessions will be streamed; and thus, presentations should work in either in-person or online settings. Presentations will be made from PDF Association Macintosh laptops. Software demonstrations should be pre-recorded or limited to web applications.
Proposals for sessions in English are preferred; however, very compelling topics in German will be considered. A maximum of 1 "commercial" slide mentioning the speaker's company and/or products is permitted.
The Program Committee (members of the PDF Association's Staff and Board of Directors) will provide feedback and guidance on accepted proposals.