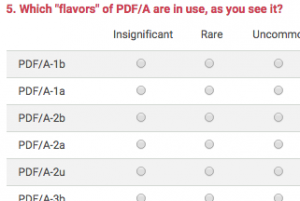 The PDF Asso­ci­a­tion is sur­veying its mem­bers (link requires a login to the members only intranet) on the cur­rent and prospec­tive state of the mar­ket­place for PDF/A solutions.
The sur­vey con­sists of 10 multiple-choice ques­tions requir­ing 15-20 min­utes to complete. It closes on April 17.
The results will used to inform dis­cus­sions on the future of PDF/A at the ISO TC 171 meet­ings in San Jose in April.
Sur­vey results (data and analy­sis) will be deliv­ered to the mem­ber­ship of the PDF Association.
The ques­tions are inter­est­ing enough to make par­tic­i­pa­tion worth­while for every mem­ber of the PDF Asso­ci­a­tion community.