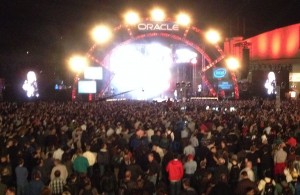 That was the question we kept being asked at JavaOne (San Francisco) - the official Oracle show for Java which ran last week as part of OracleWorld and includes lots of talks and an exhibition. The show takes over 3 hotels in San Francisco and parts of the Moscone Center. Taylor Street is closed to provide a cafe area.
Oracle acquired the Java language when it took over Sun Microsystems. Java is a critical component in Oracle's business, but Oracle also recognises (as Adobe recognised with PDF), that much of the value of Java comes from a vibrant ecosystem and community where they co-operate with other companies/competitors (ARM/Intel/Red Hat and IBM were also there). Oracle's role with Java is to provide the stewardship/leadership so that the Java platform remains unified, viable and relevant to its users who can then build and innovate on it (much like the PDF Association's role/mission in the PDF world). So the JavaOne show is part sales operation for both Oracle and other companies, part technical show and part community-driven event.
Talks are submitted by anyone and selected by a panel. This year attendees could hear a 45 minute talk by Ernest Duodu and Sylwia Kedzia (IDRsolutions) on integrating a PDF viewer into a Java IDE/platform. Bruno Lowagie and Raf Hens (iText) ran a 2 hour practical lab session on working with PDF and Java.
On the exhibition floor there was the usual collection of very Java specific companies and also several document companies (Atalasoft, Docusign, Kofax). 4 members of the PDF Association offered Java-based solutions for PDF document handling:
As JavaOne speakers kept telling us: Java is still the leading development language of the planet. Lots of these developers need to work with documents and PDF is the world's leading document format. So it was no real surprise to see lots of PDF companies at a JavaOne show. That was how we answered the question.
After 4 very full-on days the JavaOne show finished with a big free party/concert (this year it was headlined by Aerosmith). Maybe that is an innovation we could encourage the PDF Association to adopt at their next conference...