My wife recently told me how she made a (younger) colleague fall out of his chair when she mentioned that as a college student she'd watched the internet being born.
She's right if you consider that it was NCSA Mosaic going viral that remade the internet with the World Wide Web, and that Marc Andressen's UIUC classmates - including my friends and I - were some of the earliest adopters of Mosaic, then Netscape, and Linux and all the rest. Even HAL 9000,  from 2001, A Space Odyssey, first became operational at UIUC (1992 in the film, 1997 in the  book).
I have a vague recollection from during that time, that the university (or maybe it was just the Computing and Communications Services Office; my erstwhile employer as a student) decided to embrace this new Acrobat software because it was cross-platform, and its PDF files looked the same viewed or printed on different types of computers; which wasn't a given back in those days.
A few years later, at the turn of the century more precisely, I joined a company called Intranet Solutions that had a Chicago-based division that created software for viewing (or extracting content or converting) different file formats. This company used a 3rd party filter for PDF files, but we were re-implementing it to be a native filter for the "Outside In" software for performance reasons. I was one of two point persons tasked with evaluating every bug report related to this new PDF filter to determine if it was a bug or a performance problem. Everything was measured against how well Acrobat (Reader, usually) handled the file in comparison with our software. So I leaned on/abused Acrobat Reader as a diagnostic tool while occasionally referencing the PDF specification that was readily and (very unusually, then) freely downloadable from the internet back in those days.  I believe that our PDF Export product was one of the first products generating PDF/A documents. Towards the end of my time there, I also noted that while we boasted of being able to view and convert hundreds of different file formats; the ones our customers seemed to truly care about had basically narrowed down to just the Microsoft Office formats and PDF.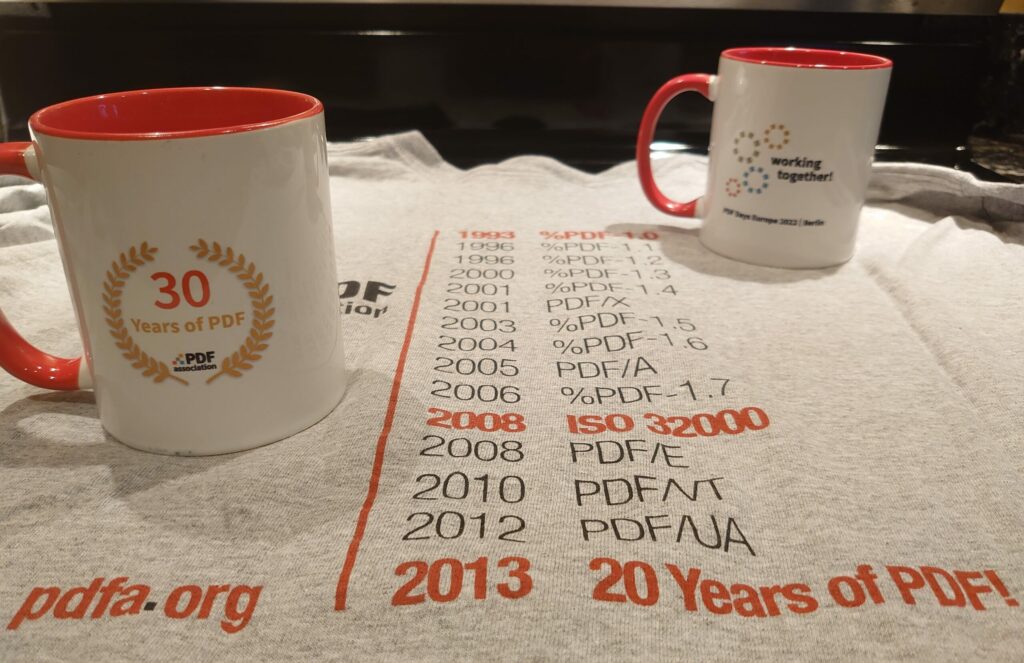 I could go on about how a PDF resumé crafted using ReportLabs' Python-based PDF library was what got me into Datalogics a dozen years ago, but the broader point I want to make is that when Adobe created Acrobat and made the PDF specification available, it didn't just create another graphics-based application format. What happened was the beginnings of an ecosystem of developers and end-users that wanted to generate and use these digital documents because, for all of their faults, warts, and inconveniences, they were better than all of the alternatives. And it's been an iterative process improving on that and a conversation that's lasted for 30 years now and still continues today through our efforts within the PDF Association and within ISO committees, and elsewhere as well.
As important as Adobe is to that story, Adobe's role is only part of that story and I think it makes sense to look beyond just Adobe to find and celebrate other individuals who recognized the potential and helped shape the current PDF ecosystem. It's worth sharing their key insights from back then to help us think about where we are now, and how we can continue improving the world by helping PDF evolve to continue meeting the need for a standardized self-contained digital document format. 
Hence, my support for this project.
EDITOR'S NOTE: Patrick Gallot, a member of the PDF Association's Board of Directors, has contributed $1,000 of his own money to support Beyond Camelot, the PDF Association's project to produce a documentary about the development of the PDF format.