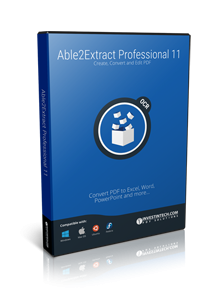 As a company that's been on the frontier of PDF technology in the past 16 years, we are proud to present the latest version of one of the most popular PDF solutions in the world — Able2Extract Professional 11.
As of December 2016, we are discontinuing Able2Extract Standard and leaving only Able2Extract Professional in our desktop product portfolio. This may come as a surprise to some, but we are confident that this will empower our current and future users with more productivity, for a more optimal pricing.
With that in mind, we wanted to introduce some major changes to Able2Extract Pro, so that users can now, not only convert, create and edit PDF documents seamlessly, but also annotate and redact both scanned and native PDFs.
We can proudly say that, in this latest version, we provide users with a full-range PDF solution that perfectly fits into every professional's workflow, whether it is accounting, finance, retail, real estate or engineering.
Here is a complete overview of Able2Extract's latest features:
PDF Annotation
As of this latest version, users can annotate their PDFs using a wide range of popular annotation methods. Choose between:
Comments

Highlight

Sticky Note

Hyperlink

Underline

Stamp
And many more! This allows users to collaborate on important PDF documents, leave notes for their team members and make needed changes in a team environment much faster.
PDF Redaction
Recognizing the importance of PDF documents in the legal and finance industries, Able2Extract Professional 11 now has an integrated PDF redaction feature, which gives users the ability to simply wipe out all sensitive information.
Just choose your Redaction color and click and drag to form a selection rectangle. Save your redacted PDF content and feel free to share it with whoever needed, without worrying that your bank account, social and accounting numbers are at stake.
Boosted PDF Editing
Able2Extract Pro 11 has received a huge upgrade in the PDF editing department as well. Having in mind that the previous version boasted quick and efficient PDF content editing, we decided to take it to the next level by adding several new features:
Users can now add and remove vector shapes and images. There are a total of 9 vector shapes available (stars, comment balloons, squares, rectangles, etc.). Everything is fully resizable through the click & drag interface.

Color feature enables users to customize the content of their PDFs by filling elements with whatever color they choose or outlining elements. As everything else, this feature can also be tweaked according to user preferences.
PDF Conversion
In this version we are sticking our strong point — the most advanced PDF conversion on the market. There are 2 types of conversion methods: Automatic and Custom.
Automatic conversion works with all file formats and it is the quickest and most optimal way for transferring locked PDF content into Word, PowerPoint, Excel and other editable formats.

Custom PDF conversion is reserved for converting PDF to Excel and PDF to CSV, largely due to the fact that these users like to control their table layouts, so that they can format it more easily in Excel or their program of choice.
You can check out these features (and more) by downloading a 7 day free trial, or by purchasing the lifetime license for $129,95.

We're Investintech.com Inc., a Canadian company incorporated in 2000, and we're the developer and publisher of our own proprietary PDF technology. It's used in desktop, server, developer, web, and mobile products worldwide. Millions in over 150 countries have used our flagship PDF software – Able2Extract Professional. As a company, we …
Read more