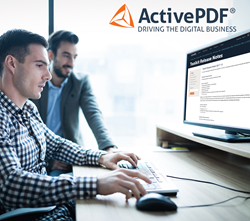 The latest release of Toolkit includes new optional parameters and advanced enhancements including Append Mode, Bookmarks, Media Box boundaries, and Page-Label support. For more information, read the Toolkit Release Notes.
Tim Sullivan, CEO and Chief Architect at ActivePDF says, "With hundreds of methods and properties, Toolkit sets the industry standard for server-based PDF manipulation – but that doesn't mean we slow down! We continually listen to our users and seek to solve their pain points. The result of this is Toolkit – the most adaptable PDF solution on the market."
Along with Toolkit, ActivePDF also released Toolkit Expansion Pack, a set of server-based components that work together to flatten, extract, print both text and image files.
"We built Toolkit Expansion Pack to give Toolkit users the ability to do even more within their workflow applications," adds Sullivan. "Bringing together three robust components in one package under the Toolkit brand, delivers a more complete solution."
More information and the Toolkit Expansion Pack features can be found here:
http://www.prweb.com/releases/2017/12/prweb14986412.htm

ActivePDF is the leading global provider of server-side PDF automation tools and digital transformation solutions. Developers, Product Managers, CIOs, and CTOs partner with ActivePDF to embed feature-rich digital transformation technologies directly into their enterprise applications and IIM solutions that reliably scale for millions of users. Originally known for providing low-code…
Read more