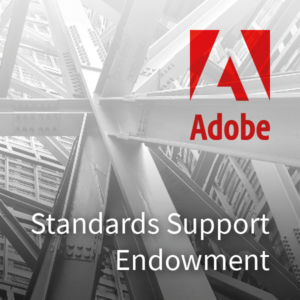 June 17, 2021 – Berlin, Germany. As part of its ongoing commitment to the development and adoption of ISO-standardized PDF technology, Adobe, a Partner member of the PDF Association, has renewed its Standards Support Endowment for 2021.
The Standards Support Endowment supplements PDF Association membership dues to assist the organization in maintaining and extending its support for administration of ISO TC 171 SC 2, the home of ISO standards for PDF technology.
"Although the PDF Association already serves as the focal point for the PDF technology community, our endowment facilitates the current and future development of PDF and related standards by funding standards program operations," said Leonard Rosenthol, Adobe's Senior Principal Architect for PDF and a member of the PDF Association board.
"Over the past year and a half Adobe's endowment has allowed the PDF Association to adopt and accelerate the ISO standards program for PDF," said PDF Association CEO Duff Johnson. "Adobe's endowment allows the PDF Association to foster increased industry engagement in standards development, thereby sustaining awareness and adoption of ISO-standardized PDF technology," he said.
The value of Adobe's Standards Support Endowment in 2021 is $178,800. The endowment is not exclusive; other organizations may also endow PDF Association activities, which are overseen by the PDF Association's Board of Directors.