Berlin/Germany – axaio software, developer of solutions for PDF creation, printing and content correction workflows for the publishing and printing markets as well as for the creation of tagged, accessible PDF documents, presents their new company logo. With the new branding, also a new website design has been introduced: http://www.axaio.com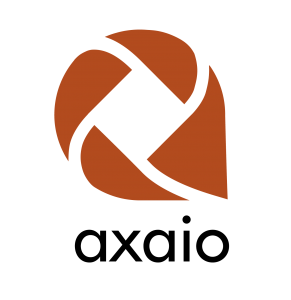 The website as well as the product logos were given a fresh and modern look. The product colors have remained the same in order to maintain the recognition value for customers and partners, but the appearance has changed. Efforts have been also made to improve the website's usability, it uses a responsive design now, so that visitors can expect the same experience from any device, desktop or mobile. The biggest change has undergone the axaio company logo - the design was completely reworked, only the colour stayed as it was.
axaio software was founded in 2006 as a sister company of callas software and designs easy to use plug-ins to automate and optimize print output and export processes, based on Adobe InDesign/Illustrator/InCopy and QuarkXPress. The generation of tagged, accessible PDF documents from within Adobe InDesign is a further field axaio is focusing on. axaio products such as MadeToPrint or MadeToTag are being used by publishing houses, advertisement agencies, public administrations, in prepress and packaging companies all over the world.
Press Contact
Four Pees
Justine Trio
Phone: +32 9 237 10 00
justine.trio@fourpees.com
www.fourpees.com

axaio software optimizes and standardizes output workflows for Adobe InDesign/InDesign Server, InCopy, Illustrator and QuarkXPress environments. axaio MadeToPrint vastly enhances reliability in PDF creation and export through standardization and automation of print output and export processes. Publishing systems like WoodWing Studio, vjoon K4 or Quark Publishing Platform can be integrated …
Read more