ISO Committees (TC 171 SC 2)
In November the ISO committees for PDF, PDF/A, PDF/UA, PDF/E and XFDF will gather in San Jose, California for another full week of meetings.
Key subjects on the table include:
ISO 32000 / PDF (WG 8)
Now that PDF 2.0 is published, Working Group 8 will use its time in San Jose to review errata brought to the attention of the Project Leaders since publication, assess the status of feature-requests received over the past year, and to decide on next steps for the PDF specification.
ISO 14289 / PDF/UA (WG 9)
The PDF/UA committee will meet to consider the current Committee Draft (CD) of PDF/UA-2. The Committee reaffirmed its commitment to the current direction during the Berlin meetings in May of 2017.
Highlights of PDF/UA-2 include:
Based on ISO 32000-2, and therefore leveraging the PDF 2.0-defined structure elements, namespaces, structured destinations and other advanced accessibility features in PDF 2.0.
A tight focus on PDF technology, in other words, on ensuring that a PDF's content may be represented in an accessible fashion.
Inclusion of a comprehensive set of requirements pertaining to attributes
 Eliminating content-specific requirements to facilitate integration with accessibility standards that do regulate content such as WCAG 2.0.
ISO 19005 / PDF/A (WG 5)
The PDF/A committee will review comments against the current draft of ISO 19005-4. Likely changes in the next version of PDF/A include:
Based on ISO 32000-2, and therefore leveraging PDF 2.0's definitions and features
Elimination of conformance-levels B, A and U
New conformance levels facilitating dynamic content
ISO 24517 / PDF/E (WG 7)
Part 2 of PDF/E is essentially complete. PDF/E represents the state-of-the-art in terms of distributing and archiving engineering content, including 3D content using the PRC format. Since PDF 2.0 is now published, it's likely that PDF/E-2 will be sent forward to an FDIS or directly to publication.
Attending the meetings
The meetings will be held at Adobe Systems in San Jose. Teleconference access will also be provided.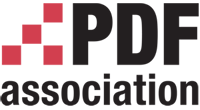 PDF Association members who wish to attend should contact the Executive Director (Duff Johnson) directly for accreditation via the PDF Association's liaison with ISO TC 171 SC 2.
For those who participate via their respective country's TC 171 member body organization, you need to be accredited and entered into ISO's Global Database prior to attending. Contact Betsy Fanning at the 3D PDF Consortium (secretariat for ISO TC 171 SC 2) for more information.