Pre-Conference of the PDF Days Europe in Berlin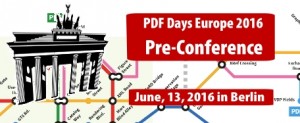 In Addition to the PDF Days Europe, the Pre-Conference will be held at the same location on Monday, June 13, 2016. This event will include top-quality expert workshops covering PDF/UA, records management, TR Resiscan and many other cutting-edge subjects.
German speaking visitors can find the complete agenda here:
https://pdfa.org/event/pre-conference-der-pdf-days-europe-2016-in-berlin/?lang=de
For English speaking visitors we recommend the Foxit and LuraTech Workshop:
https://pdfa.org/event/foxit-and-luratech/
Register now for the Pre-Conference workshops!