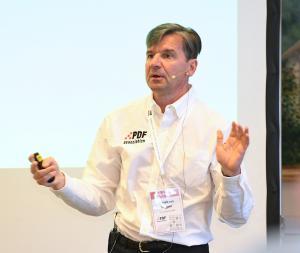 PDF Association: At the PDF Days Online 2021, you will be hosting a presentation titled "Archiving email – as PDF?" – what's that about?
Dietrich von Seggern: For email there is still no good or widely accepted way for archival. This is surprising since most business communication takes place via email these days. I will briefly provide background about why email is so difficult in this context. But most of the time I will discuss a brand new paper, published by the University of Illinois, that specifies an approach to use PDF for this purpose. The EA-PDF paper was created with lots of input from various experts including the PDF Association. There already are some solutions for email archiving using PDF, but this approach broadens the scope, attempts to overcome some of the shortcomings and – most important – aims to standardize how that is taking place. The paper does not define this standard yet, but that is going to happen in a second step that is just about to take off.
PDF Association: Who is your presentation aimed at?
Dietrich von Seggern: Everybody who is interested in the PDF format for archival. The paper has an academic background, but it has lots of value for commercial archival in industry, insurances, finance or similar.
PDF Association: What will the people who attend your presentation be able to take away from it?
Dietrich von Seggern: My plan is to explain the main concepts of this new approach so that people know what is coming or may even contribute in the next phase.
PDF Association: The PDF Days Online 2021 has become the leading PDF event. What makes the PDF Days so unique in your mind?
Dietrich von Seggern: PDF is an essential building block for many professional workflows. It is admirable in its flexibility and coverage of all aspects of digital documents. But its feature richness comes with a price: Not all PDF files are equal and a given workflow may improve from or even rely on a particular feature that is not always present. An increasing number of professionals understands that. PDF Days is unique since it is the place where they can hear about and discuss optional features of feature rich PDF files.
PDF Association: Thank you! We look forward to seeing you at the PDF Days Online 2021.
Check out the overall PDF Days agenda and register for Dietrich's session.