With only a month left until the doors open for PDF Accessibility Days in Copenhagen on November 12-13, 2015 , I got in touch with Duff Johnson, who will be speaking at the conference about "How PDF/UA relates to WCAG 2.0". As I have always struggled to see the relevance of  WCAG 2 in my daily life when it comes to getting a job done as a PDF software developer and document producer alike, I grabbed the opportunity and asked Duff for an interview…
Interview with Duff Johnson
Interviewer: Olaf Drümmer
OD. You are going to talk about "How PDF/UA relates to WCAG 2.0". Why would anybody care? Isn't the W in WCAG about web pages or web sites, whereas PDF/UA is about accessible documents represented in the PDF file format?
DJ. That's a good question, and there are many valid ways to answer it. There are two things I'd like to stress.
First, PDF is, like it or not, a very significant part of the body of material generally understood to be "web content". On the one hand, PDF technology is nothing like the common language of HTML/CSS and JavaScript that forms the core of the web. On the other hand, a lot of websites do little more than provide navigation to PDF documents. This isn't just because the customer is old-school, or insists on being able to control how their content prints; it's due to the need for a "document" rather than a "web page".
PDF is, in fact, how to do a fixed-layout document in the web context.
Second, we have to talk about PDF in the WCAG 2.0 context because WCAG 2.0 is claimed to be technology-neutral, and thus applicable to PDF. Many who are adopting WCAG 2.0 are doing so under the presumption that they will be able to apply WCAG 2.0 equally across all their electronic content; not just web pages, but PDF documents, Excel spreadsheets and everything else. Their desire for a one-size-fits-all solution is understandable - and achievable - but technically, WCAG 2.0 is only part of the answer.
OD. If I am not mistaken, WCAG has never managed to establish a widely shared understanding exactly what accessible PDFs should look like - are you seeing this changing with the advent of PDF/UA? Will all PDFs be accessible in the foreseeable future?
Very commonly, when I receive a tagged PDF file, I open it with a tool that converts the tagged content to HTML. This allows me to quickly review the file as it is presented (in the best case) by assistive technology.
I'm afraid what I usually find is that although the content within a given page may be ok, the document as a whole is very poorly tagged. This is usually as much caused by a problem with the document author's understanding of how to create an accessible document as it is with the technology they are using.
That said, these days I can open a bank-statement from any of several huge US banks, and find a very well-tagged PDF. That certainly wasn't true before PDF/UA!
WCAG 2.0 includes several general principles of great value, principles that aren't elucidated as such in PDF/UA. On the other hand, WCAG 2.0 is entirely lacking in requirements that ensure interoperability outside of HTML/CSS and JavaScript; requirements that are crucial to the technical and economic reality of accessibility across formats and technologies.
To return to your question… the advent of PDF/UA has certainly speeded development of software that creates PDF documents that conform to PDF/UA, and thus, to WCAG 2.0.
The proportion of tagged to untagged PDF will increase slowly over time. I don't think it will ever hit 100%, but there's tremendous potential to make tagged PDF the norm rather than a matter of 1 in 7.
OD. Is the W3C working group in charge of WCAG welcoming the publication of the PDF/UA standard? Are they pointing to at as a more focused guideline for creating accessible PDFs? Will PDF/UA incorporated into a next version of WCAG?
The Web Accessibility Initiative (WAI), the W3C working group which owns WCAG 2.0, refers to PDF/UA in its PDF Techniques as "of note". This language hasn't changed since 2012, when WAI published its first PDF Techniques.
It's unclear to me how WAI wishes to address PDF. WCAG 2.0 isn't really configured to work with 3rd party specifications beyond specific web technologies. The WCAG2ICT document, as presently drafted, adds little light with respect to PDF accessibility. I continue to think the best way to proceed is likely via a comprehensive overhaul of existing PDF Techniques to include proper reference to PDF/UA.
OD. According to WCAG content can only be considered accessible if two or more solutions - reading tools or assistive technology - exist in the market that actually provide access to that content. I have been concerned that this tends to slow down development of new tools and concepts. Is this any different with PDF/UA? How does PDF/UA encourage development of new ways of creating and using accessible documents?
WCAG's concept of "accessibility supported" is very reasonable in principle, but I agree with you that it inhibits development. As WCAG's authors themselves will tell you, WCAG 2.0 is not animated by interoperability.
OD.  What are the one or two most common and counter productive misconceptions about accessible PDF?
The most common misconception: that creating accessible PDF is somehow mysterious. Not in the slightest. If you can create an accessible Word file or HTML page you can create an accessible PDF file.
The most counter-productive misconception: the idea that WCAG 2.0 by itself can suffice to describe accessibility requirements for PDF documents, software applications, kiosk devices, and so on. The results are clear; incomplete, imprecise specifications mean increased uncertainty and therefore risk, so developers place their efforts elsewhere. For the rest of us: slow progress towards generally accessible content, as WebAIM's surveys attest.
OD. When did you create your first accessible PDF? What has changed since then?
I started playing with tagged PDF in 2000, when Adobe contacted me to explain what they had in mind, and to show me some pre-release software that included the capability to create and manage tags. When Acrobat 5.0 shipped in 2001 my company at the time was ready with "PDF Tagging Services".
I'm very happy to see that a healthy industry has grown up since the day when Adobe was the only software vendor and I was the only service provider doing accessible PDF. Today there are dozens of different software applications at many different levels that deal with tagged PDF, and hundreds of providers who provide tagging as a service, either via the source file (such as InDesign), or as a remediation of an existing document.
OD.  If you had one wish regarding accessible PDF - what would that wish be?
That those writing regulations covering the technical aspects of accessibility would utilize the relevant technology-specific standard - in PDF's case, PDF/UA - in addition to WCAG 2.0.
About Duff Johnson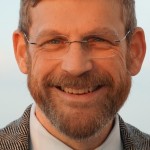 Duff Johnson is the Executive Director of the PDF Association. He has served as chairman of the committee that wrote PDF/UA since 2005, and as one of two Project Leaders for ISO 32000, the PDF specification, since 2011.
Duff began his career with PDF in 1996 when he started his PDF-centric document imaging service bureau, Document Solutions, Inc. He has managed several companies in the electronic document software space and in addition to his duties with the PDF Association, now operates as an independent consultant based in Winchester, Massachusetts.
Duff Johnson can be reached through his website http://duff-johnson.com.
About the PDF Accessibility Days 2015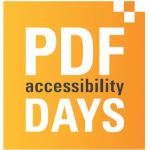 The PDF Accessibility Days 2015 are an event organised by Jens Bjerre Kirkegaard from IncluDoc, Denmark, in close cooperation with the PDF Association. The main goals of the PDF Accessibility Days are:
discuss accessible PDF technology with the world's leading experts on PDF accessibility
take the mystery out of creating accessible PDF documents
demonstrate the benefits of accessible PDF
For more information, or in order to rehgister, please visit https://www.amiando.com/pdf_accessibility_days.