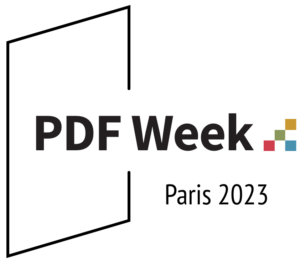 PDF's technical community will gather for its first-ever PDF Week in Paris; in-person meetings of PDF Association working groups back-to-back with meetings of the committees managing ISO standardization efforts.
Along the way we'll enjoy springtime in Paris with AFNOR, our French hosts, including dinner on the Seine and a tour of the Notre Dame reconstruction on Thursday night.
Members who cannot attend in person will be sorely missed… and welcome over the usual video-conference arrangement for TWG and LWG meetings. Not yet a TWG or LWG member? Simply login to the Member Area and Manage your Communities! Not yet a member of the PDF Association? There's a way to fix that too!
The following PDF Association and ISO working groups will be meeting in Paris May 2-5, 2023. The learn more about what these various communities are working on, check out the community page.
PDF Association working groups
ISO TC 171 SC 2 working groups

PDF TWG
Forms TWG
PDF/UA TWG
PDF Reuse TWG
Digital Signatures TWG
Deriving HTML from PDF TWG
3D PDF TWG & LWG
PDF Accessibility LWG
PDF/UA Processor LWG
LaTeX Project LWG
DocRM LWG
PDF Technology MWG

WG 5 (Archive)
WG 7 (Engineering)
WG 8 (PDF)
WG 9 (Accessibility)
WG 10 (Metadata)
Did you know?
The latest PDF specification is now available at no cost!
You can pay hundreds to buy the latest PDF specification from ISO, or you can download it from the PDF Association at no cost thanks PDF Association partner members Adobe, Apryse and Foxit!
Get your copy today, complete with ISO-approved errata and the latest crypto extensions, ISO / TS 32001 and ISO / TS 32002!