dots software, a subsidiary of Konica Minolta Business Solutions Europe, has recently released a new option for its print workflow solution AccurioPro Flux. Flux Preflight Pro enables the use of callas pdfToolbox to automatically check and optimize files for printing without requiring any additional manual steps. The successful OEM integration of pdfToolbox into AccurioPro Flux for preview generation and file conversion was the clear next step in intensifying the relationship between dots software and callas software.
The new option for AccurioPro Flux, Flux Preflight Pro, allows users to apply preflight profiles from pdfToolbox. To do so, it assigns a suitable preflight profile to its print output during the configuration process which is then automatically used to validate and (if necessary) optimize print files as and when they are received. Print operators can also create their own profiles in pdfToolbox for use in Flux. Comprehensive reporting then keeps users informed of validation results and any changes made.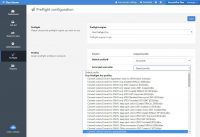 "Automatically applying preflight profiles from pdfToolbox optimizes print data when sending it to in-house or external print shops, allowing the printers to work directly with the data", said Michael Flüh, Head of Product Development at dots Software. "This saves our customers time and effort in their day-to-day work. It also eliminates the need for additional installation and maintenance work, since the pdfToolbox technology is directly integrated into AccurioPro Flux."
AccurioPro Flux is a modular print workflow solution developed by dots software exclusively for Konica Minolta. dots Software offers three versions of the product, depending on whether customers need to automate prepress processes, collaborate on printing work or deploy an online print shop. The base product, AccurioPro Flux Essential, is a toolbox for efficient pre-press work. The focus here is on automating common processes and centrally controlling all production devices, ensuring that productivity is significantly streamlined. As well as these pre-press tools, AccurioPro Flux Premium includes a central server which enables teams of print operators to collaborate on projects and provides a range of evaluation and control functions. The most comprehensive product, AccurioPro Flux Ultimate, also includes an online shop optimized for business customers which makes it easy to order printed products online.
The Flux Preflight Pro option is available for the Premium and Ultimate versions of AccurioPro Flux.
About dots Software:
dots Software develops software solutions for digital production printing. Founded in 1997 in Berlin Kreuzberg, dots Software has been part of Konica Minolta Business Solutions Europe since 2005. Exclusively for Konica Minolta, dots Software is developing versatile print workflow solutions: AccurioPro Flux optimizes and automates the prepress process and enables the efficient management of print jobs. It simplifies the work in the team and allows the fast and uncomplicated online ordering of printed products.
In addition, dots Software has solutions for label printing as well as for the efficient organization of complex printing projects in the portfolio.
With innovative software solutions, dots Software not only simplifies and optimizes the work of print service providers, but also of in-house print shops in public administrations, universities and companies. AccurioPro Flux is available throughout Europe but also in many countries outside Europe, for example in the USA and Australia.
For more information, visit the dots Software website at: www.dots.de.
About callas software:
callas software finds simple ways to handle complex PDF challenges. As a technology innovator, callas software develops and markets PDF technology for publishing, print production, document exchange and document archiving. callas software was founded in 1995 and is based in Berlin, Germany. Media service providers, agencies, publishing companies and printers use callas pdfToolbox to preflight, correct and repurpose PDF files for print production and electronic publishing. Businesses and government agencies all over the world rely on callas pdfaPilot future-proof, fully PDF/A compliant archiving of PDF and office documents. In addition, callas technology is available as a programming library (SDK) for developers with a need for PDF optimization, validation and correction. Software vendors such as Adobe, Foxit, Kodak, Quark, Xerox and many others have understood the quality and flexibility provided by these callas tools and have incorporated them into their solutions.
callas software actively supports international standards and has been participating in ISO, CIP4, the European Color Initiative and the Ghent PDF Workgroup. callas software is a founding member of the PDF Association.
callas software is based in Berlin, Germany. For more information, visit the callas software website at: www.callassoftware.com.
Press Contact
Four Pees
Justine Trio
T: +32 9 237 10 00
justine.trio@fourpees.com
www.fourpees.com

callas software finds simple ways to handle complex PDF challenges. As a technology innovator, callas software develops and markets PDF technology for publishing, print production, document exchange and document archiving. callas software helps agencies, publishing companies and printers to meet the challenges they face by providing software to preflight, correct…
Read more