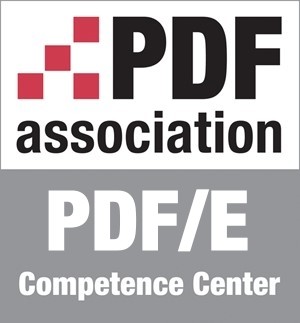 Berlin, Germany. The PDF Association has opened its PDF/E Competence Center to promote awareness of the ISO standard for engineering supporting the secure creation, exchange and use of engineering documents. The fifth of the PDF Association's Competence Centers, establishes a platform for information and discussion of the benefits of PDF/E in almost every engineering field. It is intended to be a point of contact for experts in 3D technology, architects and construction specialists, as well as developers of PLM applications – in other words, for all engineers who use PDF technology as an integral component of their day-to-day work. Among other things, the Center plans to publish "PDF/E in a Nutshell", which will cover all aspects and fields of application of this ISO standard. PDF/E, based on PDF 1.6, was certified in 2008 as ISO standard 24517-1. This standard is designed to ensure that compliant files can describe a complete model in a single PDF file. To enable this, the standard stipulates that all fonts must be embedded, and prohibits the use of external data. Because PDF/E files are self-contained and complete, they are an excellent choice for exchanging, visualizing, printing and archiving of engineering data.
PDF/E-2, a major update and enhancement to PDF/E-1 is already a formal ISO Draft International Standard (DIS) and is nearing publication. Based on PDF 2.0, PDF/E-2 extends its support for 3D formats to include ISO 14739, the "Product Representation Compact" (PRC) format. PRC is a very lightweight data format that was designed to represent CAD data defined in all the popular 3D CAD formats. Phil Spreier, Head of the PDF/E Competence Center and Technical Director of the 3D PDF Consortium, said, "This new development for PDF/E really extends the formats capabilities to archive complex 3D engineering documents: after all, more and more CAD solutions such as Autodesk® Inventor®, PTC® Creo®, Siemens PLM Software Solid Edge and Dassault Systèmes SOLIDWORKS® MBD are able to publish 3D models as PDF files. We see a very bright future for PDF/E as an open, ISO format for visualizing, exchanging and archiving 3D engineer data."
About the PDF Association
First established as the PDF/A Competence Center in 2006, today, the PDF Association is an international organization promoting awareness and adoption of open standards in digital document applications using PDF technology. The association facilitates education, networking and communication, and the sharing of expertise and experience with interested parties worldwide. The current membership includes over 100 enterprises and numerous individual subject-matter experts from more than 20 countries.
The management board includes industry leaders from Adlib Information Systems Inc., Adobe Systems Inc., callas software GmbH, Datalogics Inc., DocuSign Inc., Foxit Europe GmbH, intarsys consulting GmbH, levigo solutions GmbH, Nitro Software Inc. und Satz-Rechen-Zentrum (SRZ). The association's chairman is Matt Kuznicki, Chief Technical Officer (CTO) of Datalogics Inc. The Executive Director is Duff Johnson, independent consultant and ISO Project Leader of ISO 32000 and ISO 14289.
Editorial Contacts for North America:
PDF Association
Duff Johnson
Phone: +1.617 283 4226
duff.johnson@pdfa.org
Editorial Contacts for Europe:
Thomas Zellmann
Neue Kantstr. 14
D-14057 Berlin
Phone: +49 30 39 40 50 - 0
Fax: +49 30 39 40 50 - 99
info@pdfa.org
pdfa.org
good news! GmbH
Nicole Körber
Kolberger Str. 36
D-23617 Stockelsdorf
Phone: +49 451 881 99 - 12
Fax: +49 451 881 99 - 29
pdfa@goodnews.de
www.goodnews.de