Contents
Evolving Document-Centric Processes with Advanced Rendering to PDF in Life Science
Feature Article

Meeting Document Requirements in Life Sciences: The Art of Avoiding the Resubmit
---
Evolving Document-Centric Processes with Advanced Rendering to PDF in Life Sciences

John Hanrahan, Adlib, Principal – Life Sciences Practice
Having worked in the Life Sciences field with a document-centric focus for many years, I'm very familiar with the stringent document guidelines that exist. Countless hours are spent across organizations formatting submissions and reports, ensuring hyperlinks are the correct blue and page margins are the right size. In a process with a lot of manual intervention there is considerable room for human error. Often, document guidelines are not visible to the human eye – such as a page margin of 3/4" versus 2/3" – and can be easily missed by end users. Converting documents to PDF, and automating such a process across the enterprise, can significantly reduce or eliminate the possibilities of error, thereby increasing the chances of meeting strict compliance regulations, saving re-work time, and reducing resource costs.
When deciding to employ an Advanced Rendering solution to automate document-to-PDF conversion across the enterprise, it's important to ensure that the product can work with the existing and multiple sources of content. This way you can avoid bogging down end users with extra technical details they need to remember, and IT professionals with additional systems they need to manage. By integrating directly with existing Enterprise Content Management, Product Lifecycle Management and Workflow systems, end users see a seamless and consistent process for converting their documents into high-fidelity, compliant PDFs. A number of other benefits can also be achieved:
Continuity of business processes across the organization can be harnessed
Auditable trails of transactions and activities can be maintained
Cost benefits can be leveraged
Content growth across the organization can be easily managed
Data and content can be tagged, indexed and cataloged to increase searchability
Unstructured data, including email, can be preserved in regulatory formats
Dated and unsupported rendering solutions can be formally retired
The Life Sciences organizations we work with – including pharmaceutical, medical device and biotechnology firms – use Advanced Rendering to PDF in a number of different ways, but the overall goal is to increase the efficiency of document-centric processes. Here are a few use cases for high-quality PDFs within Life Sciences firms:
Enhancing unsearchable content: Submissions to governing bodies are generally comprised of multiple files, many of which are scanned images and documents in which the text is unsearchable. By harnessing Optical Character Recognition technology – included with high-fidelity PDF conversion tools – users can enrich submission content by making all content text searchable, including that from scanned images.
Ensuring compliance: Establishing FDA compliance is a requirement, as is adhering to internal document regulations.  Often, compiling documents from multiple native authoring platforms and versions can be complicated when keeping compliance guidelines in mind. Advanced Rendering documents to PDF format automates the compliance of important assets across the organization. Adlib's familiarity with worldwide regulatory requirements has resulted in a solution that combines highly accurate document conversion, the flexibility to adapt to a wide range of regulatory requirements, and workflow tools to streamline complex processes.
Unifying content across platforms: Many organizations use multiple Enterprise Content Management systems, plus Product Lifecycle Management and Workflow solutions, not all of which communicate well with each other, but all of which have PDF conversion needs. By integrating directly with existing platforms, Advanced Rendering unifies a diverse range of publishing needs into a single, cohesive environment, resulting in compliance benefits and cost savings in the millions.
Archiving for the long term: Storing corporate assets – whether born digitally or scanned from paper sources – in a format that is usable, accessible and viewable over an indefinitely long period of time is an important, and often regulated, requirement for many Life Sciences organizations. Digital archiving in PDF and PDF/A format has many benefits, but can be intrusive to end users' workflow if it's not easily integrated into current systems. Advanced Rendering automates the archiving process and streamlines the workflow by integrating with current document practices to satisfy the internal and external requirements for long-term document storage. 
Feature Article
Meeting Document Requirements in Life Sciences: The Art of Avoiding the Resubmit

Jeff Brand, Director – Product Management
As in many industries, Life Sciences requires strict adherence to document processes and guidelines. The lifeblood of a company—data and information—is often locked up in diverse systems and applications, each using its own file formats. In Life Sciences organizations — including pharmaceutical, biotechnology and medical device manufacturers — this can be anything from clinical trial content to FDA submissions. Having diverse content proliferated across departments, business units and international borders can make it difficult for workgroups to collaborate, planners to envision the large-scale trends affecting company operations, and administrators to capture and archive the records and transactions vital to business.  Converting documents to standard PDF format eliminates the issues associated with having content in different file formats, and increases the opportunity for collaboration and efficiency of document-centric processes.
The Life Sciences industry has two main challenges when it comes to document-centric workflows:
Accuracy is paramount: The regulatory approval process is rigorous. Even a single footnote out of place in a thousand-page report can force a resubmission.
Delays are costly: Time to market is critical. Delays in drug approvals can cost up to $1 million per day and impact more than a decade of research. Delays have even larger consequences for patients who are waiting for treatments.
The FDA and EMA have very specific and strict regulations that submission content must comply with. When dealing with submissions that can range from several hundred pages to several thousand pages, a considerable amount of resource time and effort goes into ensuring each page in the submission meets the regulatory guidelines. Converting important documents, such as FDA submissions, to high-fidelity PDF decreases the risk of non-compliance.
The FDA notes all of their requirements online, so I won't regurgitate them here, but I will point out a few that I think users often have trouble with:
Hypertext links in text should be designated by rectangles using thin lines or by blue text, and must go the correct page (so reviewers can access all of the information).
All pages must have a ¾" margin on the left side (so if the document is printed and bound, no information is cut off).
All text must be searchable, and scanned images and documents must be subject to accurate Optical Character Recognition (so reviewers can copy and paste content when discussing items in context).
Non-standard fonts must be embedded (so special characters such as mathematical or chemical formulas are not misrepresented).
Page orientation should be correct for reading (so reviewers don't have to manually rotate documents).
The PDF must be an exact representation of the original document, which is usually a Microsoft Word file (so no content is missing or distorted).
The solution for these high-stakes document challenges lies in the Advanced Rendering process, which automates and enhances the document-to-PDF conversion process eliminating manual intervention and human error associated with meeting stringent document requirements.  In short, to avoid the resubmit, you must not only adhere to the PDF standard, but you must ensure your PDF is compliant. 
With Advanced Rendering to high-quality PDFs, Life Sciences companies can convert and combine content – reports, drawings, charts and images – into high-quality standardized assets to achieve some important benefits across the organization:
Greater efficiency in the regulatory approval process: submission-ready PDFs that comply with the sector's regulatory requirements, including the FDA, EMA and eCTD submission guidelines.
Workflow automation: streamlined and automated workflow – including reading email attachments and properly archiving and directing that content.
Improved distribution across devices: consistent, portable format that can be viewed across PCs, laptops, tablets and mobile phones.
Archiving: conversion of paper files scanned into archive-quality digital PDF or PDF/A files to reduce physical storage needs.
Increased accuracy by reducing human error: automating the document transformation, minimizing the need to perform rote tasks and the potential for human error.
Collaboration: centralized, standardized approach for business units, increasing communication.
Simplified IT requirements: streamlined IT processes, reduced costs and improved productivity.
Ensured long-term access:  transformation of digital assets, contracts and reports destined for long-term retention into PDF/A, the always-accessible format.
While the requirements, guidelines and specifications for Life Sciences documents are many, they can be streamlined using Advanced Rendering solutions. By converting documents to PDF across the enterprise, Life Sciences organizations can ensure consistency, compliance and cost efficiency.
PDF Association Members Present Themselves
Adlib
As the trusted expert in Advanced Rendering, Adlib specializes in the conversion and assembly of corporate assets into high-quality, searchable PDF's to improve collaboration, compliance, document security, archiving procedures and overall efficiency of business processes. Adlib integrates with and leverages leading Enterprise Content Management systems, including EMC Documentum, IBM FileNet, Microsoft SharePoint and OpenText with workflow-based business rules for intelligent document conversion.
Adlib provides the document conversion, publishing and workflow foundation that increases productivity in businesses worldwide and the effectiveness of people across organizations, while supporting compliance with internal processes and regulatory bodies using standard electronic document formats such as PDF, PDF/X and PDF/A.
Products and Partnerships
Adlib PDF is the industry's first complete Advanced Rendering platform that enables document-to-PDF transformation across the entire document lifecycle.  By automating the conversion of corporate documents into accessible and usable digital assets we streamline document-intensive business processes to improve collaboration, increase efficiency, mitigate risk and reduce costs company-wide.
Adlib helps organizations around the world to become more productive, reduce errors and inconsistencies, and realize significant cost savings.
Being the trusted technology provider of Global 2000 organizations, Adlib brings over a decade of expertise supporting more than 5,500 international companies and government organizations.  Adlib partners with more than 100 industry leading software vendors such as EMC, IBM, Microsoft, OpenText, K2, Nintex and Dassault.  Adlib is a proud Microsoft Certified Gold Partner, Gold Certified ISV Partner, EMC Certified Solutions Partner, as well as a US Government GSA provider. Working with our valued customers in a wide variety of industries including Life Sciences, Financial Services and Government, we help organizations capture and preserve corporate memory, automate processes, mitigate risk, adhere to regulatory compliance and improve competitiveness.
For more information, visit www.adlibsoftware.com
Events
June 3-4, 2014: ECM World, Düsseldorf, Germany
PDF Association is part of the event for document management in Düsseldorf, Germany.
June 16-17, 2014: PDF Days Europe 2014, Cologne, Germany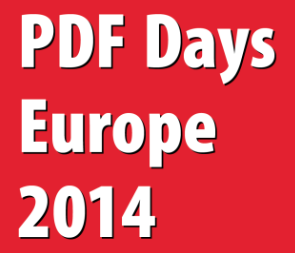 Since 1993 PDF technology has grown from an invention by a single company to a gigantic ecosystem with thousands of vendors. From a proprietary file-format PDF is now part of the global IT infrastructure; an open and democratically-managed ISO standard at work in almost every sector of almost every economy worldwide. PDF is a Big Subject. PDF Days in Europe 2014, an educational event created by the PDF Association, can be your guide.
See the detailed agenda: https://pdfa.org/pdf-days-europe-2014-agenda/
New Members
About the PDF Association
The PDF Association is geared towards developers of PDF solutions; companies that work with PDF in document management systems (DMS) and electronic content management (ECM), interested individuals, and users who want to implement PDF technology in their organizations. Although the Association's original members were predominantly from German-speaking countries, the PDF Association now boasts members from over 20 countries worldwide.
Contact