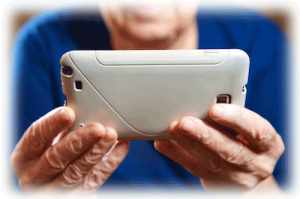 Smart phones are in every pocket, including grandma's. And she needs access to her PDF documents as well.
Based on the premise of a fixed layout, the page-description model better known as PDF was developed during a time where documents were exclusively viewed on desktop monitors, or printed. The advent of much smaller screens, and screens of many sizes, presents a variety of challenges – and opportunities - in the PDF paradigm.
This article surveys just a few of the creative ways in which PDF software vendors are addressing the question of mobile devices. Far from a problem to be overcome, in many cases PDF's unique capabilities – high-fidelity, resolution-independent rendering, annotations and other features – are put to work to bring unique solutions to an extraordinary variety of business problems.
Let's look at a few examples.
Cockpit documentation on a tablet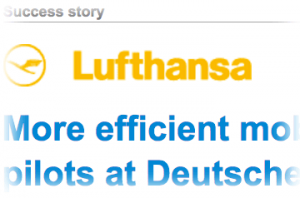 PDF Tools AG's Swiss-made software is a critical part of Lufthansa's "EFB", or Electronic Flight Bag. The EFB provides flight personnel with all the information, general and flight-specific, they require on a single device.
Lufthansa's EFB supports every cockpit process for flight preparation, execution and wrap-up. PDF's ability to deliver exact color and transparencies and resolution-independent graphics in precise fixed layouts is essential to reference materials used in flight operations. PDF Tools AG's 3-Height™ PDF Viewer was selected because of its speed and ability to display all necessary features.
Powering PDF viewing on Box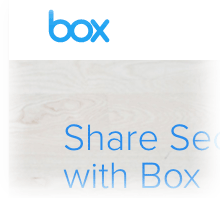 Delivering a sophisticated PDF viewing SDK for iOS and Android, and soon a Web SDK, PSPDFKit is implemented by Box and many leading mobile Board meeting applications, where exchange and markup of PDF documents is fundamental to every meeting.
The software includes a number of features that add crucial polish to mobile applications using PDF, including fast rendering of complex content, even with rapid zooming, to key convenience features such as automatically detecting text blocks and zooming in on a double-tap.
Reflowing with style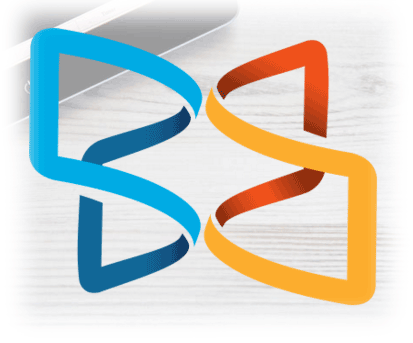 For most users, using PDF documents on their mobile devices is just the way it is; a large volume of their real-world content (contracts, textbooks, blueprints) are PDF files. Xodo, the fastest-growing PDF viewer / annotator on Google's PlayStore, is proving that PDF remains in high demand irrespective of the size of the screen.
Xodo is powered by the PDFNet SDK developed by PDFTron Systems Inc. PDFTron's SDK offers a unique reflow solution that enabled Xodo users to read PDFs with high fidelity while maintaining text annotations, hyperlinks, and original look and feel of PDF document (including fonts, colors, and style).
Mobile capture to PDF
Document capture is changing. Instead of a traditional scanner, users are increasingly photographing documents using their smart phones. While convenient, the output often poses challenges for OCR and indexing systems.
Luratech's imaging and PDF expertise, delivered via high level interface SDKs, allows developers to rapidly produce or enhance scanning apps to control image quality at the source, converting smart phone images into clean PDF/A documents.
Multimedia PDF for publishers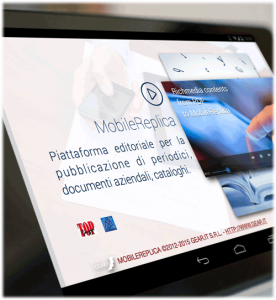 GEAR.it's RadaeePDF rendering engine for mobile devices is a key component of the company's MobileReplica framework allowing publishers to deliver PDF content with interactive media.
MobileReplica supports rich media annotations and attachments including video, popups and HTML5 / JavaScript content while running on Android, iOS and Windows mobile devices on displays ranging from 4 inches to 12 inches.
Learn more.
xyMedia: focus on accessibility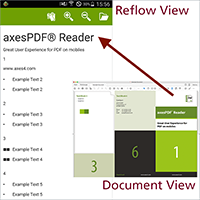 First presented at the Copenhagen PDF Accessibility Days in November, 2015, xyMedia's axesPDF Reader is an Android-based prototype leveraging tagged PDF, with a planned release sometime in the first half of 2017.
The software features structure-based navigation and reliable text reflow and customization based on the document's structure. A contrast mode and screen reader support is also included.
Mobile API for PDF content extraction

PDFix brings a brand new experience to working with PDF files. The full-featured API specializes in content and data extraction by inferring logical reading order and semantics from unstructured PDF content, which allows a fully responsive view. This semantic information is fully retained and understood, which allows for Natural Language Processing and Machine Learning Analysis.
The software is available as an SDK for Mac, Windows, Linux, iOS & Android.