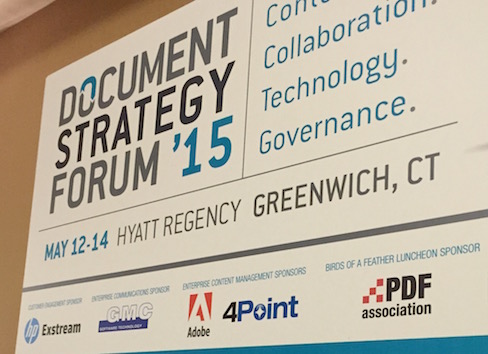 by Duff Johnson, May 12, 2015
Greenwich, CT. This year's Document Strategy Forum has more of a CCM (Customer Communications Management) flavor as compared to previous events. While "documents" are in many cases the raw material of the discussion, sessions tend to focus on workflows rather than the document per se.
A key subject I'm encountering has to do with addressing the core realities of today's ECM / EIM marketplace. Most of the presentations are, in some way or another, responding to the findings of an AIIM survey of 434 companies with large-scale investments in document and content management systems. A key finding, as summarized in ImageSource, is the following:
Among respondents, 52 percent have three or more ECM/DM/RM systems, and 22 percent have five or more. In addition, many have yet to link their more traditional ECM systems to mobile capabilities.
There's a lot of discussion about the desirability of interoperable documents and metadata across all environments… and very little (so far!) awareness or acknowledgement of how far ISO standardized PDF technology can carry implementers towards these objectives.
Much time is spent on "predictive analytics", "collaboration" and "mobile", less on the deployed content itself. What can you do with search technology? Lots of discussion. Why do vendors 'capture' input documents by rendering them to images and OCRing them for "searchable text"? How can organizations capture metadata into their documents? These are not the questions many here are asking.
I'm here on behalf of the PDF Association to offer a session on how the characteristics of ISO standardized electronic document formats may be put to use in solving business problems.
I have been asking attendees to tell me about their ECM integration problems. Few are aware of how PDF technology might contribute to a solution. For example: how to bridge two ECM systems? My answer (in three cases offered thus far):
leverage ISO standardized XMP in PDF as the meeting-ground for document and content metadata
require document management systems to create/capture ISO standardized PDF annotations
Of course, there are plenty of PDF software and services on offer. I'm happy to see PDF Association members Adobe Systems, Compart, GMC, HP, iText, and Snowbound Systems here as exhibitors!
In general the event includes some interesting sessions and many high-level participants. I recommend it to PDF Association members.