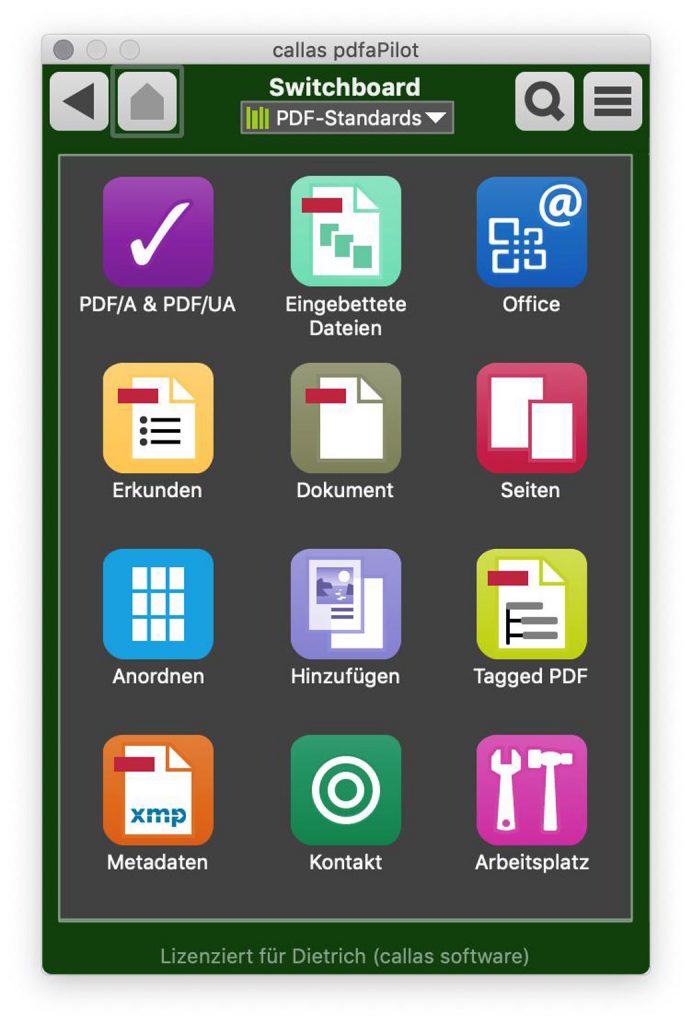 Berlin. callas software, a leading provider of automated PDF quality assurance and archiving solutions, today released an update for its pdfaPilot product line. The central focus of pdfaPilot 8.2 is its support for version 2.0 of the ZUGFeRD data model (also known as "Factur-X" internationally). The new release also resolves issues with OpenType SVG fonts and offers optimized PDF comparison functionality. pdfaPilot 8.2 can also convert image formats like TIFF and PSD to PDF or PDF/A better than ever.
Transparent support for ZUGFeRD 2.0
pdfaPilot 8.2's conversion tools are based on a file's XML structure. Depending on whether this uses ZUGFeRD 2.0, ZUGFeRD 1.0 or Factur-X, the target file will be automatically generated in the appropriate PDF/A variant. When validating ZUGFeRD invoices, users can also choose whether to use ZUGFeRD 1.0 or 2.0. "The software usually takes care of the settings by itself," said Dietrich von Seggern, Managing Director at callas software GmbH. "However, the user retains a fully flexible range of options for validating digital invoices."
For this reason, pdfaPilot 8.2 meets the specifications of the European Committee for Standardization (CEN)'s TR 16931 standard. The software also supports the MINIMUM and BASIC-WL profiles that are also covered by the CEN standard.
Resolving errors when using OpenType SVG fonts
The use of fonts containing "emoji" is becoming increasingly common, and these fonts are often found in PDF files as so-called Type 3 fonts. A related issue has now been identified in the PDF specification which causes certain programs to improperly display such fonts. callas software has responded to this situation: pdfaPilot 8.2 can now intelligently reconcile the characters in such fonts with the content of a given page. This resolves the issue for each individual PDF file. Work is already underway to clarify the PDF specification at the ISO level.
Other fixes and improvements
Among other things, the update also includes better support for 16-bit TIFF files, metadata, and alpha and spot color channels. pdfaPilot 8.2 therefore converts TIFF and PSD files to PDF(/A) more reliably than ever. The comparison mode for comparing two PDF files has also been improved, allowing users to compare content within specific page boxes and define the anchor point for the comparison. As a result, PDF files can be compared alongside one another even if they are different sizes.
About callas software:
callas software finds simple ways to handle complex PDF challenges. As a technology innovator, callas software develops and markets PDF technology for publishing, print production, document exchange and document archiving. callas software helps agencies, publishing companies and printers to meet the challenges they face by providing software to preflight, correct and repurpose PDF files for print production and electronic publishing. Businesses and government agencies all over the world rely on callas software's future-proof, fully PDF/A compliant archiving products. In addition, callas software technology is available as a programming library (SDK) for developers with a need for PDF optimization, validation and correction. Software vendors such as Adobe®, Quark®, Xerox® and many others have recognized the quality and flexibility provided by these callas tools and have incorporated them into their solutions.
callas software actively supports international standards and has been participating in DIN, ISO, CIP4, the European Color Initiative, the PDF Association. BITKOM and the Ghent Workgroup. callas software is a founding member of the PDF Association and has been involved in the board of the international association from the very beginning.
callas software is based in Berlin, Germany. For more information, visit the callas software website at: www.callassoftware.com.
Press contact
Four Pees
Justine Trio
T: +32 9 237 10 00
justine.trio@fourpees.com
www.fourpees.com

callas software finds simple ways to handle complex PDF challenges. As a technology innovator, callas software develops and markets PDF technology for publishing, print production, document exchange and document archiving. callas software helps agencies, publishing companies and printers to meet the challenges they face by providing software to preflight, correct…
Read more