AI-Powered OCR can help you extract data from scanned and image PDF files into fully selectable and editable formats of your choice.
In their latest update Super Software Technology Co., Ltd. adds the long-awaited OCR functionality that incorporates AI that can read text from image/scanned files into text from up to 40 languages. You can use the text to translate documents in the language of your choice, making UPDF a more extensive package to solve all your PDF processing needs.
UPDF is a PDF processing tool that works on most platforms to assist you and your company process data and documents with excellent tools packed into a single product/tool. The idea behind creating UPDF has been to bring access to such powerful tools into the hands of the masses with the best UI and interface while the incredible price is much more competitive than all the competitors. This has helped UPDF remain the favorite tool for aspiring entrepreneurs and small companies.
The latest addition to UPDF is the AI-powered OCR that can help all those industries and businesses that deal with tons of customer data and information daily to extract important values. For example, if you want to verify the documents of your customers daily, you cant use manual input for thousands of customers. That would mean verifying each document manually with returning customers or for something important. This becomes more challenging if your customers are global and documents are in multiple languages. You can't start hiring new language experts for all different languages.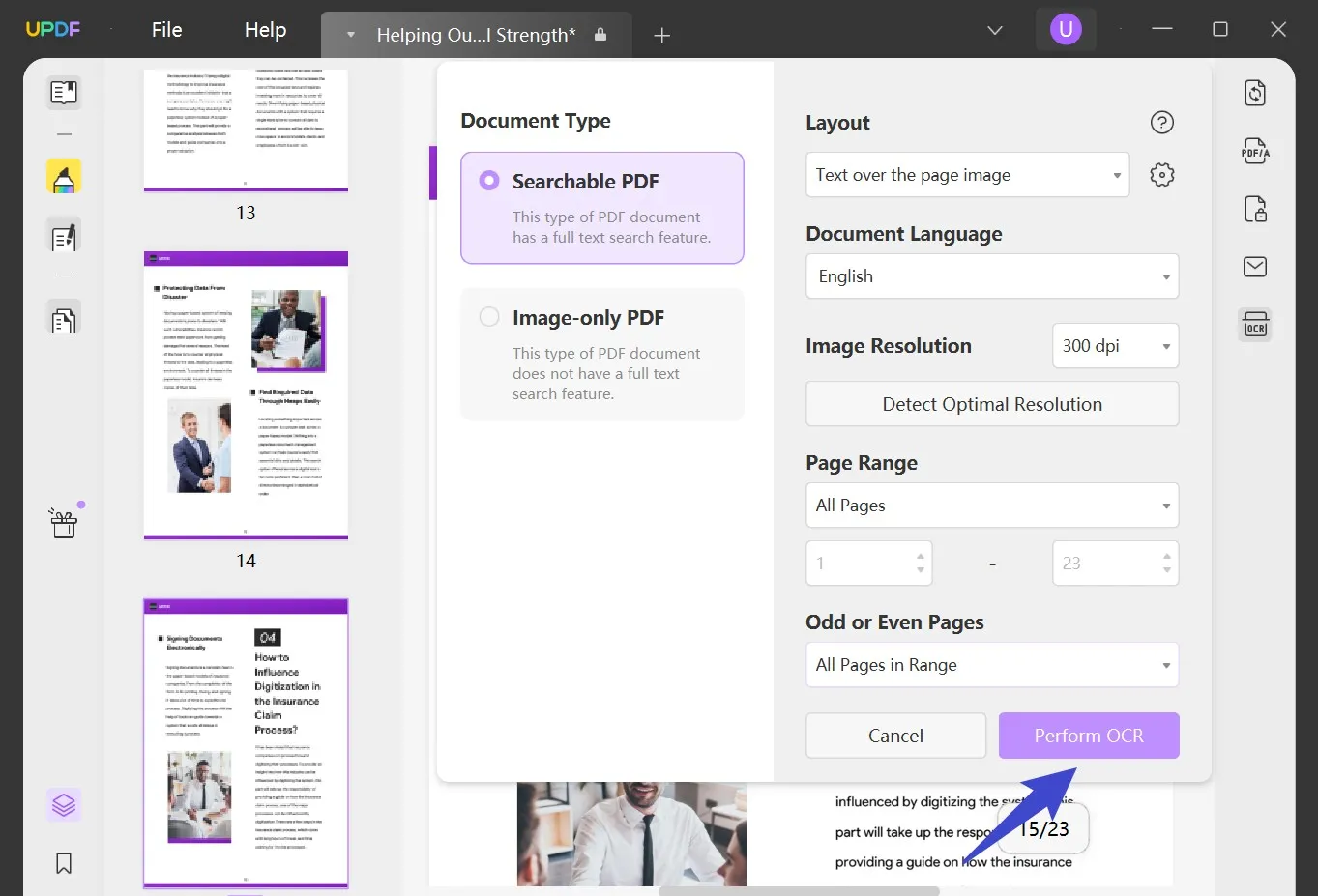 The Perfect Solution – AI-Powered OCR
What if we tell you there is a tool that can do all that for 208 languages? It can help you translate documents into different languages by extracting text from images/scanned documents and then using a translator. OCR can help you with that.
What Exactly is AI-Powered OCR?
OCR stands for Optical Character Recognition, and with the help of AI, can easily recognize a picture and differentiate it from the text. AI has become impressively advanced that it can differentiate between documents of 2 individuals without the need to read the text for it. AI-powered OCR can process documents into editable forms, learn from more and more documents and enhance its results without the need for any human intervention.
Benefits of AI-powered OCR
Reduce human errors
High accuracy when extracting data
Fast processing for even hundreds of documents
Human input is minimized, which will save time
Enhance document and data processing productivity when searching, accessing, and checking data
Perfect for Data processing businesses
Improved data security
Features of AI-Powered OCR
Higher Accuracy – With proper and expert coding, your AI tool can process millions of documents and learn from each to enhance its accuracy
Document Support – UPDF can now support multiple images or scanned documents like bank cards, ID cards, and passports to perform various post-processing functions when needed.
Language Support – Supporting 40 languages means now you don't need a companion product to do translation for you as now you need no other tool wherever you are
Multiple Platform Support – Whether you have a mac, windows, or mobile device, UPDF can perform AI-powered OCR where ever you are
AI Training – Each time AI-powered OCR processes a document, it enhances its understanding to serve your company and employees better
Pricing Model
Do you know what the best thing about UPDF is? You can get more features without worrying about purchasing any new license; rest assured, we have more to come in the future.
Freemium –You can convert up to 5 files while opening and reading as many files as you want.
Subscription Plan –Best value plan for young entrepreneurs and aspiring businesses as you pay $14.99/Quarter for only $4.99/month while US$29.99/Year for only $2.49. Unlimited access on any platform and unlimited processing of your documents.
Perpetual License – For $49.99, you get the same as the Subscription plan but without the free upgrades while no significant upgrade.
Don't forget to Visit our UPDF for more in-depth information or contact us for any queries.

Superace Software Technology Co., Ltd. is a startup developing PDF converter and editor software. Its star product is UPDF. Now it is available for Windows, Mac, iOS and Android. Superace team pursues the goal of maximizing the efficiency of the user experience by designing a compelling user interface for the …
Read more