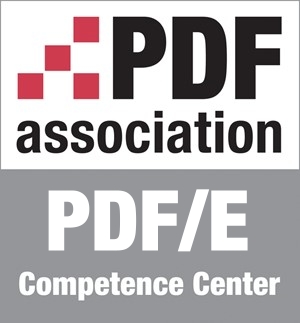 All of us at the 3D PDF Consortium are very excited to be a part of the PDF Association's new initiative!
Let's start our PDF/E conversations by discussing why we think PDF/E deserves its own Competence Center!
PDF/E (or ISO 24517) is designed to be the first of a multi-part standard. PDF/E-1 (ISO 24517-1), the first standard, addresses the need for reliable exchange of engineering documentation. The ISO committee is currently working on the second part, PDF/E-2 (ISO 24517-2), which addresses requirements for archiving of engineering documentation, including 3D data. While both of these standards are very specific, there are a number of nuances that can present challenges for both implementers and users alike.
During the most recent ISO committee meetings in Basel, Switzerland, I found myself discussing one of the nuances of the PDF/E format with several members of the PDF Association. Specifically, we were discussing the advantages of the PRC format for 3D data (new in PDF 2.0 and PDF/E-2), and how it differed from the U3D format. During these conversations, it became apparent that the decision as to which format to use in an engineering PDF document was dependent on how that document would be used. It was also apparent that developers and users of PDF/E could benefit from a forum where they could discuss the format and get help on making the correct implementation decisions. It was from these conversations that the idea for the PDF/E Competence Center was born.
The 3D PDF Consortium is happy to be able to participate in the PDF/E Competence Center. The Consortium is a community of organizations representing a cross-section of industry and institutions, including small and large end user companies, software developers and systems integrators. These member companies have extensive experience developing and using engineering documents in a wide variety of engineering workflows. I am confident that knowledge and experiences of the 3D PDF Consortium can combine with those of the PDF Association members to create a broad and deeply knowledgable community of experts on the PDF/E format.
I want to encourage PDF Association members to join the PDF/E Competence Center and explore the richness of the PDF/E format. Non-members of the PDF Association who are interested in PDF/E should likewise join so they may contribute to and learn from the discussion.
Whether you are looking for help in implementing and deploying PDF/E in your business or are developing software that reads or writes PDF/E, we are here to help.