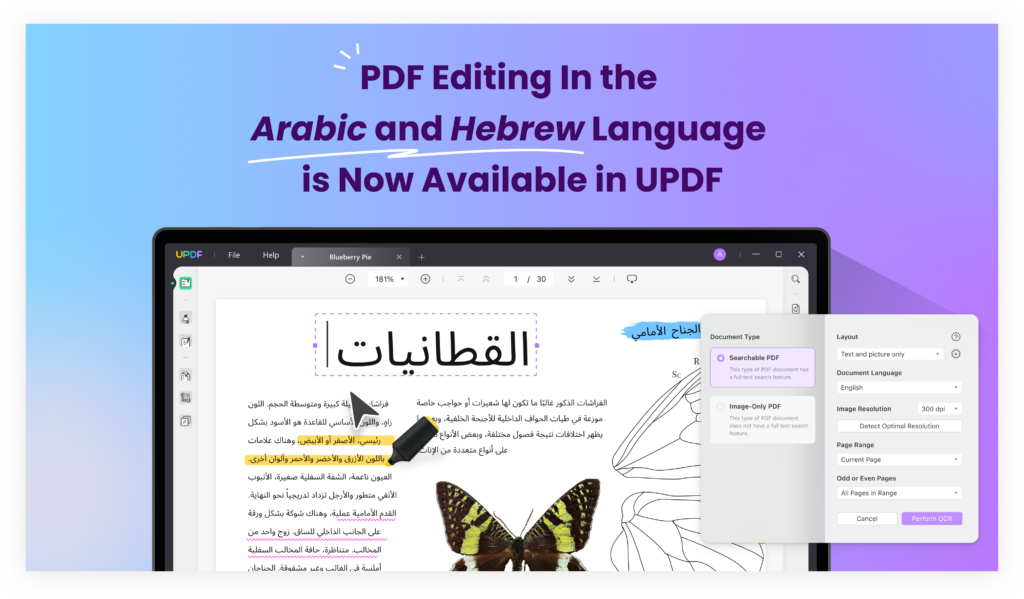 Editing Hebrew and Arabic texts in PDFs has been a tricky task for a long time. Why? Well, Hebrew has its own set of unique letters and is read from right to left. While Arabic is rich in calligraphy and complex writing. So even small changes can mean a whole different thing in it.
There are also factors like spacing irregularities that make editing in these two languages a difficult task.
So many people around the world have struggled because there weren't many tools to help with these challenges. However, this long-standing issue has now been resolved! The world's leading PDF editor, UPDF, has recently released new features that support PDF editing in both Hebrew and Arabic language.
New Hebrew and Arabic PDF Editing Features of UPDF
UPDF is already a renowned PDF editor all over the world. It is a powerful editing tool that makes PDF editing easy and interesting. Now the latest update from UPDF has introduced enhanced support for text editing in both Hebrew and Arabic.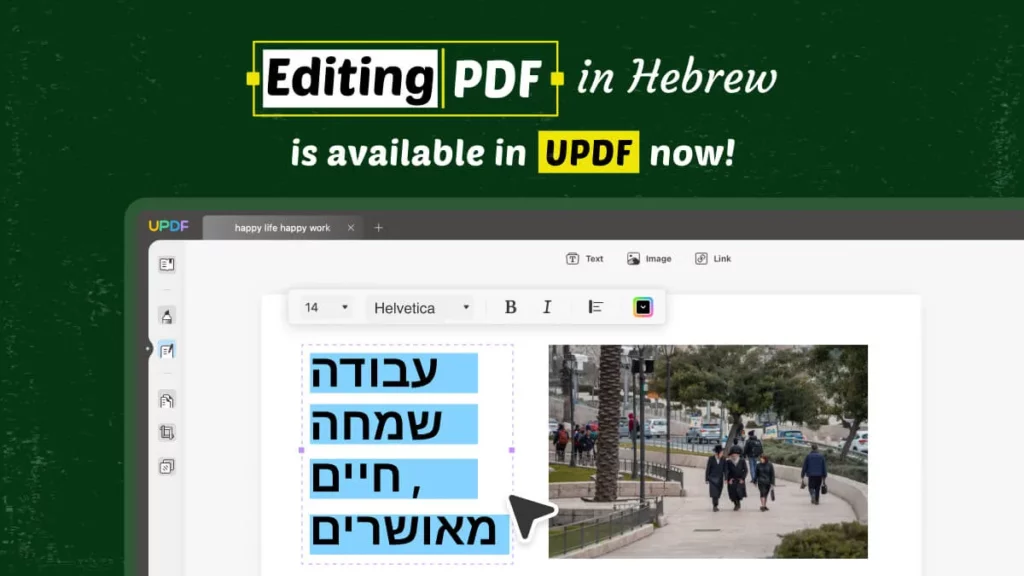 This means that if you have documents in these languages, you can now edit, customize, and manage them using UPDF. The team behind UPDF recognizes the importance of these rich languages. They have worked hard to ensure that users get the best experience. So, whether it's a Hebrew script or an Arabic manuscript, UPDF can now simplify your editing journey.
UPDF is the top PDF editor to support Hebrew and Arabic in PDF software. When many tools lag in language support, UPDF has already broken these barriers. This significant update shows that UPDF is committed to a diverse global audience. Both Hebrew and Arabic are languages with unique intricacies. And it presents specific editing challenges. But now, all those challenges have been addressed by UPDF.
"UPDF will be available in the Arabic and Hebrew language all over the world as part of its global launch in more than 40 other languages." Said Roc Lan, CEO of Superace, " We strive to offer the best document solutions to global users to boost productivity.
Why Editing Arabic and Hebrew in PDF is Difficult?
Editing Arabic and Hebrew text in PDF is challenging due to several reasons. Unlike English, these languages are read from right to left. So it often leads to layout issues. Moreover, some characters and symbols are unique to these two languages. And they can be easily mixed up during editing.
Additionally, slight variations in some words can alter the meaning behind them. There are also small marks in Hebrew and Arabic languages that demand attention. What's more, spacing between words isn't always consistent, which further complicates the task.
All these factors make editing Arabic and Hebrew in PDFs a special skill. But after you have understood these challenges, tools like UPDF may simplify this process.
Main features of UPDF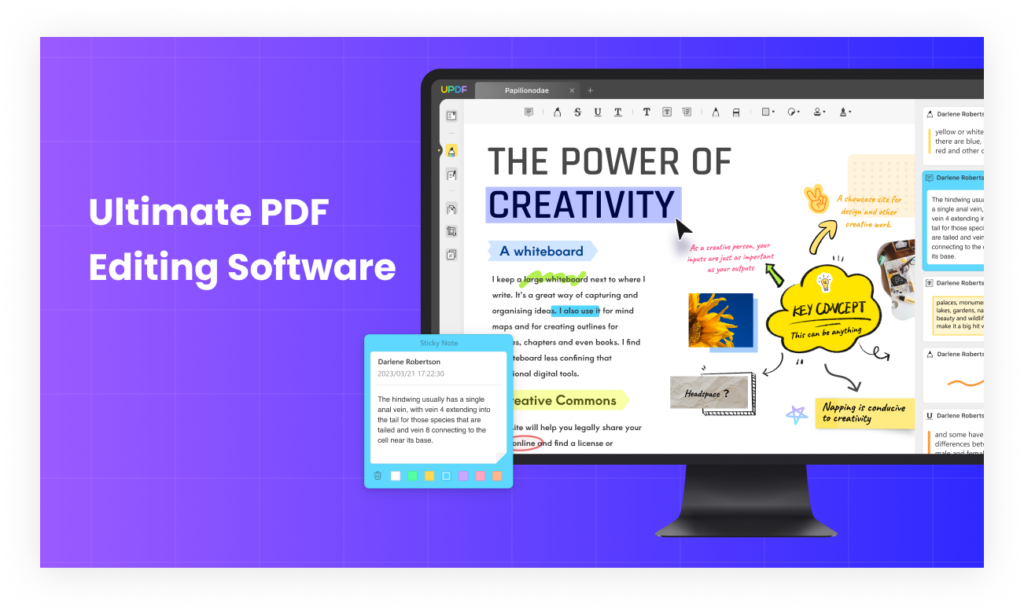 Edit pdf like Word: The features of UPDF mirror the capabilities of a Word processor. Users can edit documents and manipulate PDF content with unparalleled ease.
Convert PDF to other formats: UPDF provides some amazing reading tools for PDF. But beyond mere reading, users can also annotate their thoughts, digitally sign documents, and implement layers of protection.
Read and annotate: With UPDF, users can effortlessly convert PDF files into other formats. Whether it's Word, Excel, PPT, GIF, or PDF/A, the software ensures high-fidelity conversions every time.
Organize and more: UPDF also offers tools for users to organize their PDF content. There are also functionalities to compress files or combine multiple documents into one. Users can also reorder pages for clarity.
Create and fill out the form: Creating custom forms is also possible with UPDF. Moreover, users can navigate and complete existing forms with ease. So using UPDF, data collection and feedback is now more efficient than ever.
AI Enhancements: UPDF is enriched with AI capabilities. It offers in-depth chart summarizations with the precision that surpasses other AI editors. Moreover, AI assists users in translation, explanation, and advanced data analysis based on PDF charts, data, and text.
Compatibility of UPDF with Different Platforms
Not everyone uses a single operating system. So good PDF editors need to operate across a variety of platforms. UPDF recognizes this need. It offers extensive cross-platform support to users on almost any device.
UPDF boasts compatibility with:
MacOS 10.14.6+
Windows 7+
iOS 14.0+
Android 6.0+.
Note: Downloads are freely accessible for all these systems. Download UPDF now!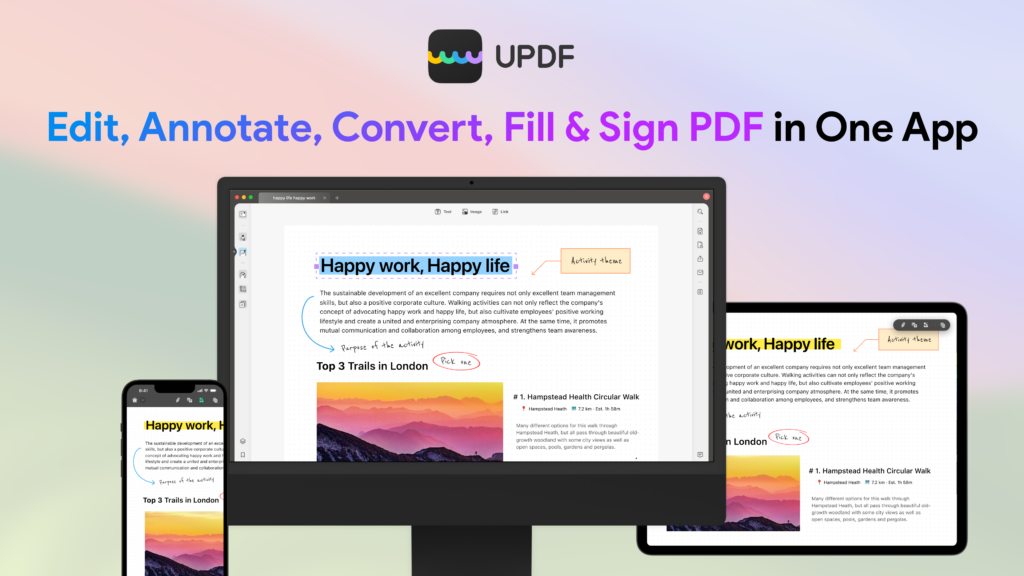 Price for UPDF and AI Add On
Every user has different needs and budgets. UPDF offers a range of pricing options to suit individual users, businesses, and educational institutions. Whether you're a solo professional or a large institution, there's a UPDF package available for you.
For Individuals:
UPDF Pro is available at US$29.99/year or US$49.99/lifetime.
For advanced functionalities, the UPDF AI Add-on is available from US$5/month
UPDF with AI add-on feature will get up to 60% off, that is US$42.99/lifetime+US$33/year.
For Businesses:
The Enterprise Plan has a special rate of US$89.00/user with lifetime access.
For Education:
Educators and students can get UPDF Pro at US$24.99/year or US$39.99/lifetime.
The Enterprise Plan is discounted at US$69.00/user with lifetime access.
UPDF AI Add-on is available at US$39.00/year, and bundle package for UPDF and AI add-on will be 65% off.
For free trials and downloads, please check https://updf.com/ or follow us on YouTube, Facebook, Twitter, and Instagram to learn more about UPDF.
PR and Media Contact:
Taylor Pang
taylor@superace.com

Superace Software Technology Co., Ltd. is a startup developing PDF converter and editor software. Its star product is UPDF. Now it is available for Windows, Mac, iOS and Android. Superace team pursues the goal of maximizing the efficiency of the user experience by designing a compelling user interface for the …
Read more