PDF Techniques Accessibility Summit
December 10-11, Edinburgh, Scotland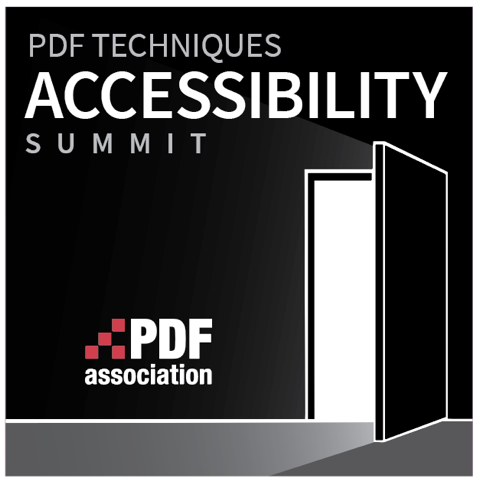 Hosted by the PDF Association, this two-day, in-person event brings PDF accessibility experts together to assemble, review and endorse diverse examples of tagged PDF to establish a common understanding of what constitutes "well-tagged for accessibility".
The objective is to establish a common understanding of "semantically appropriate tags in a logical reading order", to quote PDF/UA-1, 7.1, paragraph 2.
Results will be compiled and edited by the PDF Association's PDF/UA Technical Working Group for submission to the W3C's Web Accessibility Initiative to form the basis of a revised and updated set of PDF Techniques for WCAG 2.1.
WCAG editor Andrew Kirkpatrick will join us to discuss the WCAG techniques review process during lunch on Monday, December 10.
Location
Adobe Systems has very kindly volunteered to provide physical and connectivity facilities for this event.
Adobe's location is just outside Edinburgh, a short train-ride + walk, or 20 minute drive, from central Edinburgh. Onsite attendees will need to make their own hotel and transportation arrangements. Teleconference facilities will be provided for remote attendees.
Preparation
Details of the summit program are now available to all. Registered attendees who did not attend a briefing meeting may email the address on their ticket for a link to the briefing meeting recording. Those submitting examples may continue to do so right up - and into - the event itself.
Attending the summit
Register for this event using the form. To participate remotely, register as a "REMOTE ATTENDEE". Video-conferencing facilities will be provided.
Attending in person?
For on-site attendees, registration fees include refreshments and lunch for December 10 and 11, as well as dinner in Edinburgh on December 10.